Back to Events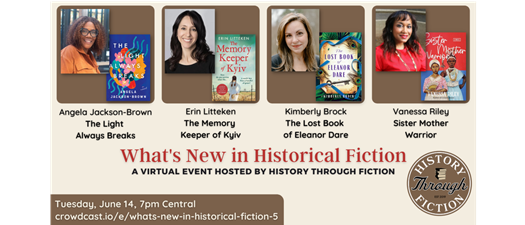 What's New in Historical Fiction - Summer Panel
Tuesday, June 14, 2022
Event Details
Please join History Through Fiction for What's New in Historical Fiction, a regular panel series featuring historical novelists with new and upcoming titles. Moderated by History Through Fiction editor, Colin Mustful, this special panel features:
Angela Jackson-Brown, author of The Light Always Breaks
Erin Litteken, author of The Memory Keeper of Kyiv
Kimberly Brock, author of The Lost Book of Eleanor Dare
Vanessa Riley, author of Sister Mother Warrior
Angela Jackson-Brown is an award-winning writer, poet and playwright who is a member of the graduate faculty of the Naslund-Mann Graduate School of Writing at Spalding University in Louisville, KY. Her upcoming novel, The Light Always Breaks, tells the story of Eva Cardon, a twenty-four-year-old, Black, and wildly successful restaurant owner in 1947 Washington D.C. When Eva meets Courtland Kinglsey, a white Senator from Georgia, the two can't fight the attraction they feel all while fighting for equal-rights in the midst of public scorn and family disapproval.
Erin Litteken is a debut novelist with a degree in history and a passion for research. At a young age, she was enthralled by stories of her family's harrowing experiences in Ukraine before, during and after World War II. In her new novel, The Memory Keeper of Kyiv, 16-year-old Katya and her family are forced to join a Soviet collective. Those who speak out are punished and hunger grips the countryside. Seventy years later, a young widow discovers her grandmother's journal, one that will reveal the long-buried secrets of her family's haunted past.
Kimberly Brock is the award-winning author and the founder of the Tinderbox Writers Workshop. She has served as a guest lecturer for many regional and national writing workshops including at the Pat Conroy Literary Center. Her new novel, The Lost Book of Eleanor Dare, follows Alice, a WWII widow trying to escape her past as a descendent of The Lost Colony of Roanoke. When her daughter Penn's curiosity reveals lost secrets, Alice is forced to reckon with the sacrifices made for love and the realities of their true inheritance as daughters of Eleanor Dare.
Vanessa Riley is an award-winning author whose historical novels showcase the hidden histories of Black women and women of color, emphasizing strong sisterhoods and dazzling multicultural communities. Her upcoming novel, Sister Mother Warrior, brings readers a vivid, sweeping novel of the Haitian Revolution based on the true-life stories of two extraordinary women: the first Empress of Haiti, Marie-Claire Bonheur, and Gran Toya, a West African-born warrior who helped lead the rebellion that drove out the French and freed the enslaved people of Haiti.
For More Information: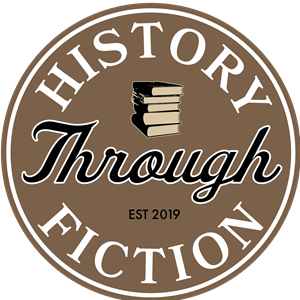 History Through Fiction
3050 Old Highway 8 apt. 328
Roseville, MN 55113
United States
(651)788-0055
Donations
Registration is free. However, a donation of $5 or less will be greatly appreciated. History Through Fiction is a small, independent press and will use the contributions to offer more events like this one.