Winter Catalog for Bookstores
We help publishers and booksellers sell more books during the holiday season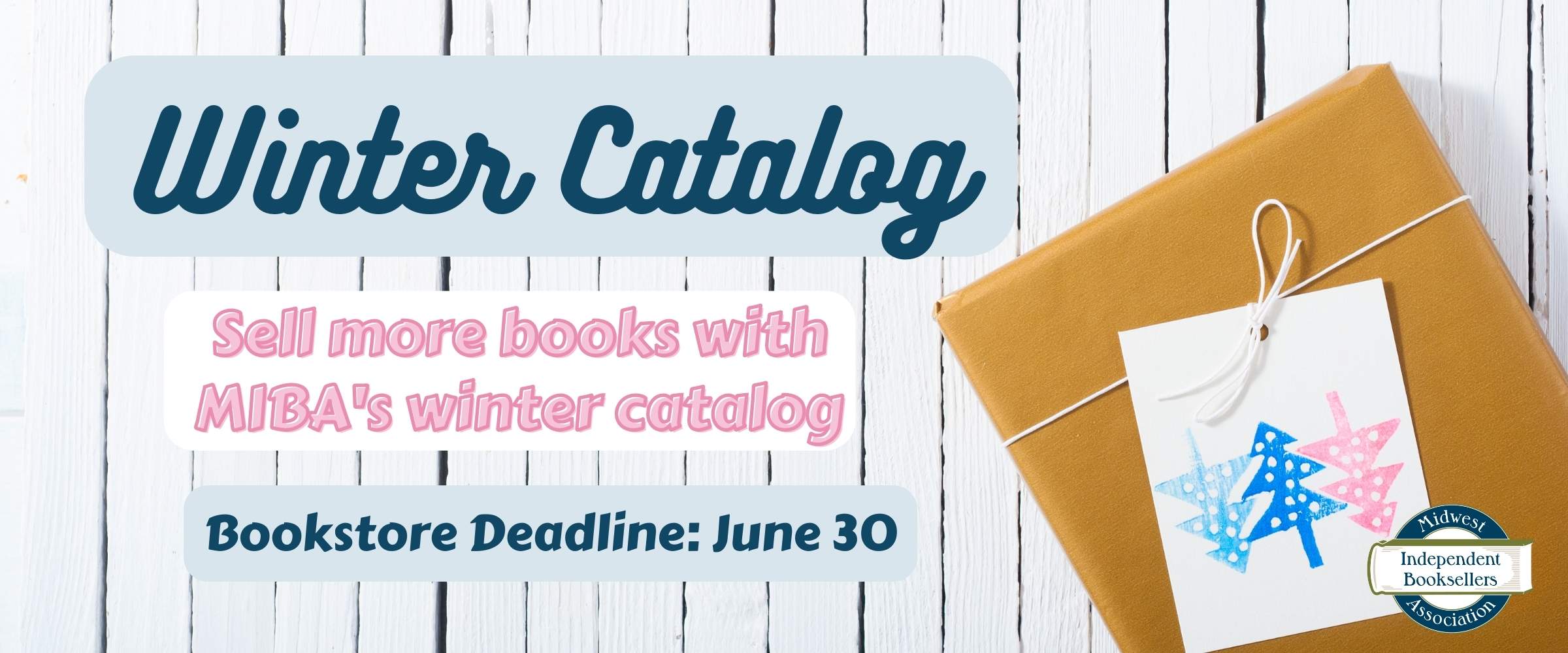 We all succeed with the MIBA winter catalog. With this powerful marketing tool, the entire indie sales channel collectively gets behind the most exciting books to sell in indie bookstores during the holiday season. We collaborate with publishers, wholesalers, and booksellers to make sure the catalog books are purchased by our booksellers, merchandised in our bookstores, and sold to book lovers throughout the Midwest.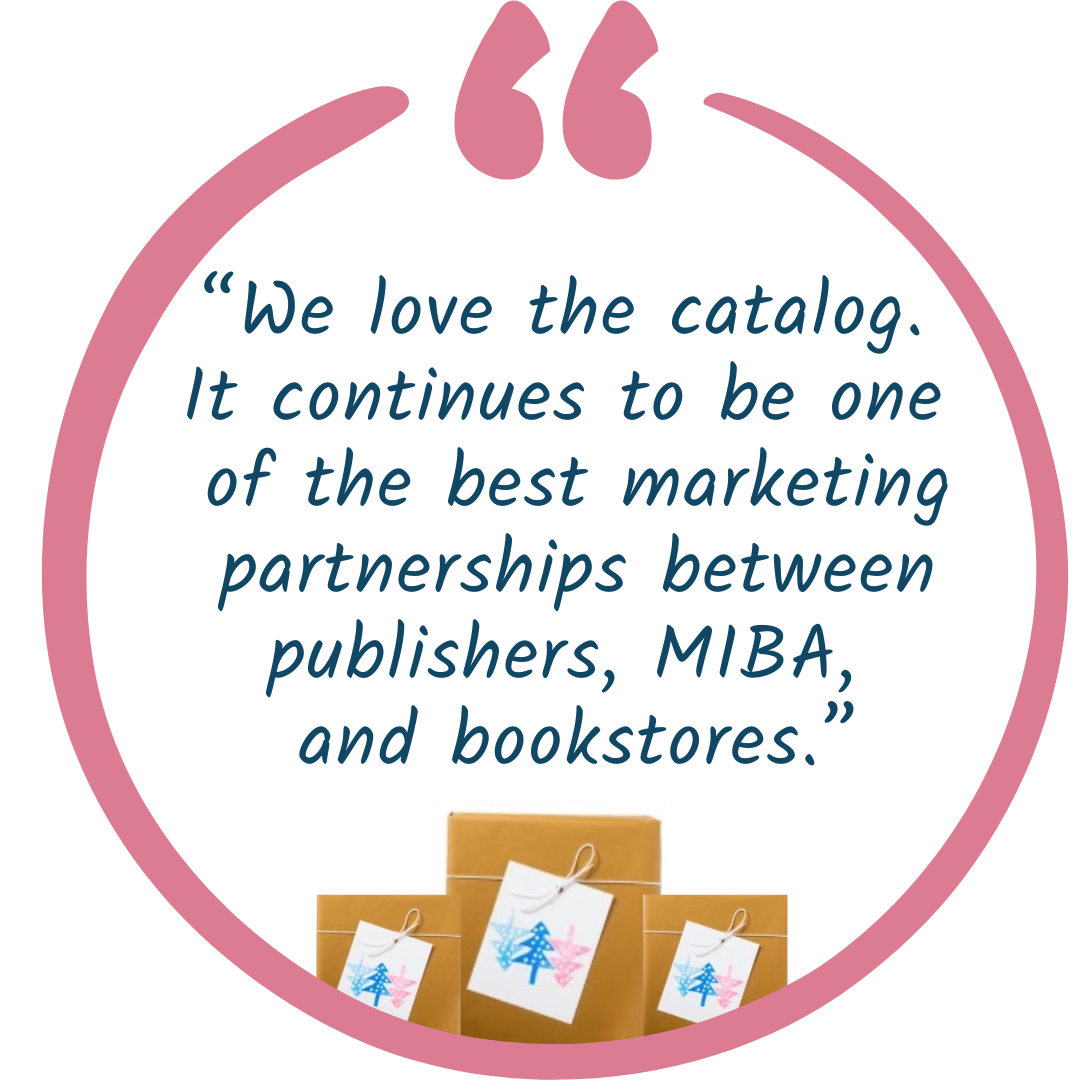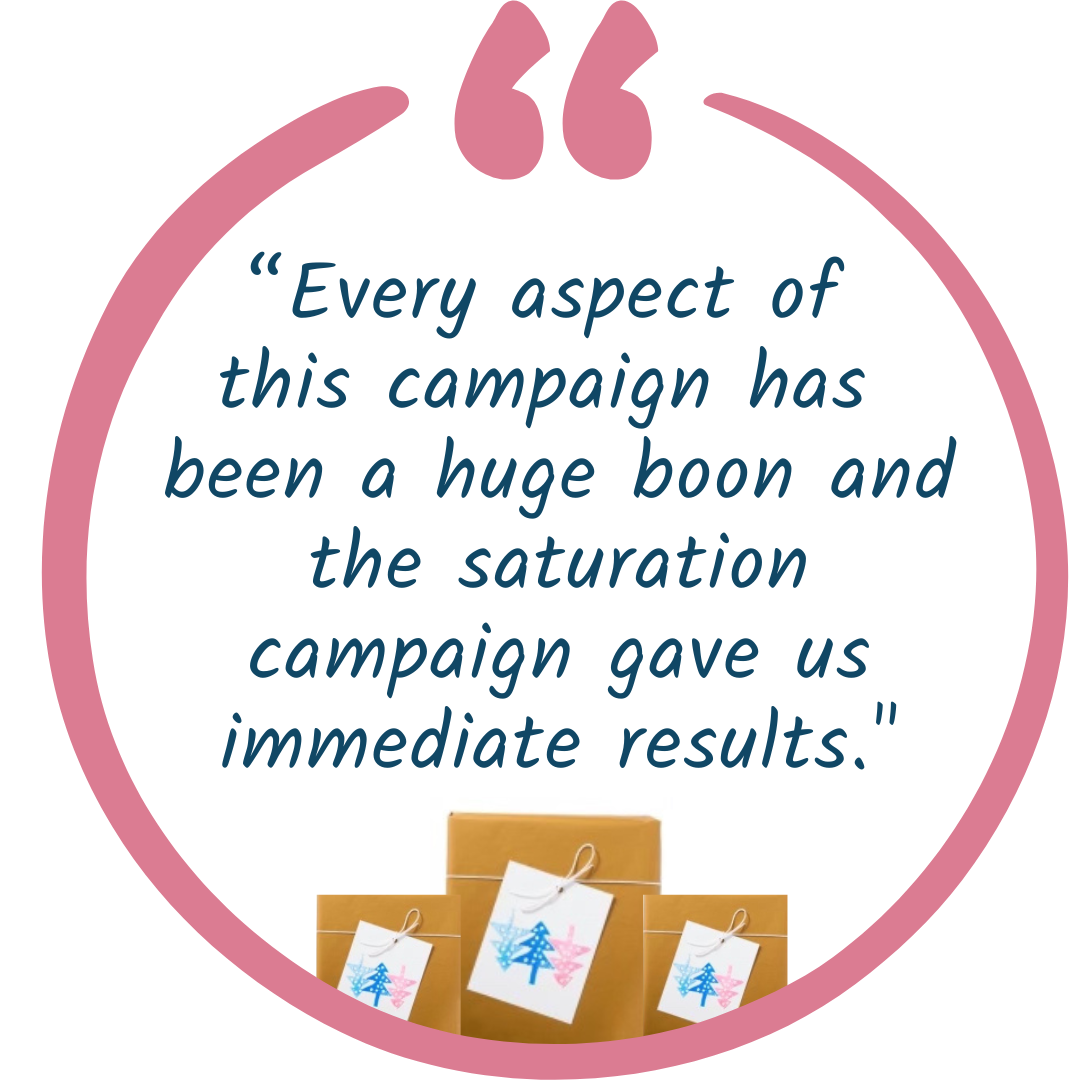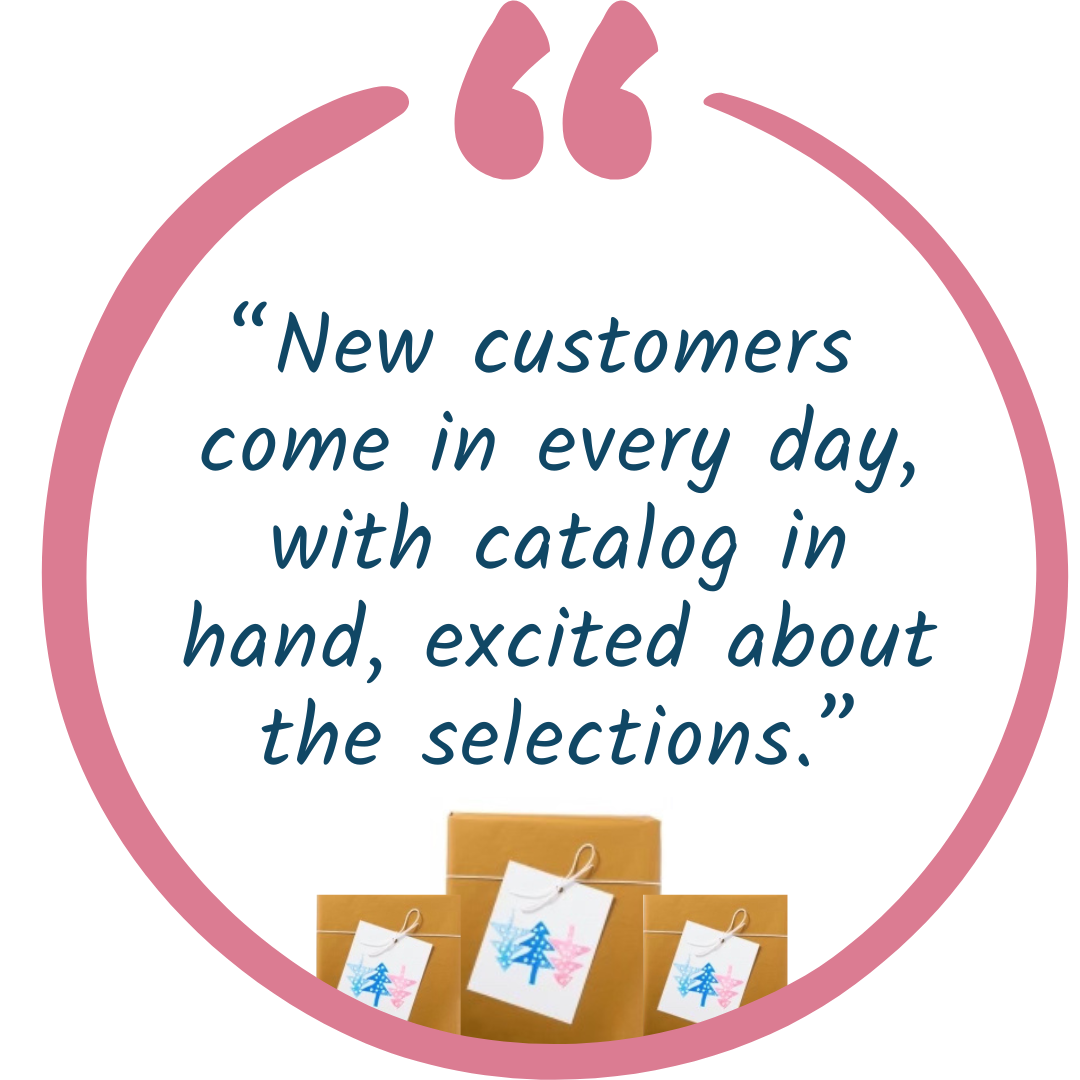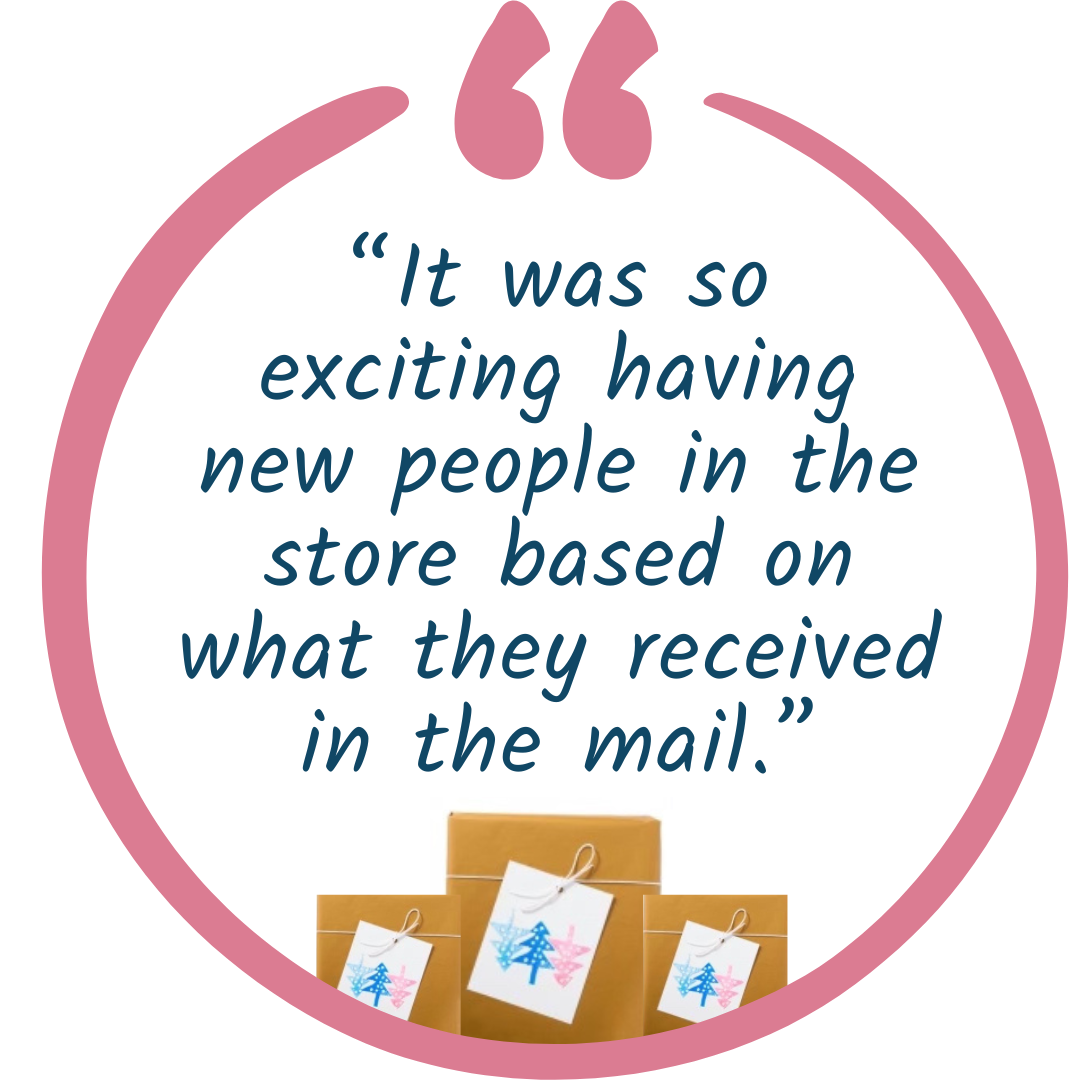 ---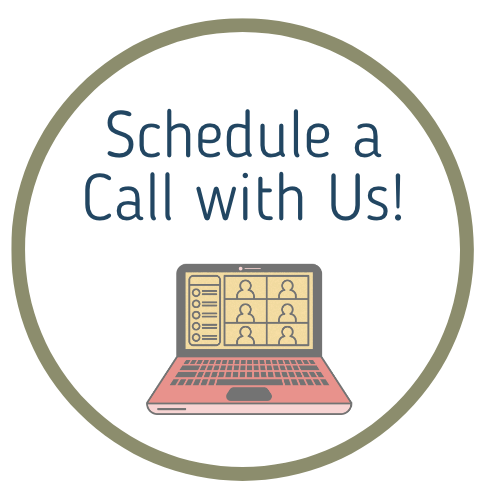 This will look like a lot of information, but we are here to help. Attend our webinar and schedule time with staff to walk you through the process.
A conversation with our staff will expedite your decision and get you on track to have a successful winter catalog year.
---


What's new this year?
Increased page count. The catalog is increasing from 12 to 16 pages, giving us a bit more breathing room and space to offer bookstores customization of the inside front cover.

New and improved digital sales platform. We're offering a digital catalog experience via Flipsnack. Stores that customize the print catalog will receive a customized digital version that links to a catalog shopping URL of your choosing.

Enhanced customization options. We're bringing back inside front cover customization and adding a full-color border to jazz it up. Now stores can use a whole page to broadcast a personal message.
You should know
Every bookstore that participates is important to us! Robust catalog participation is huge in the eyes of publishers and will strengthen the program.

If you are a specialty store, consider using the catalog as a strategy to expand your inventory at the holidays to get customers who are looking for a wide array of gift options.

Of the 95 titles in last year's catalog, 32 percent had a BIPOC angle (author, illustrator, or content). Work with us to increase this percentage this year by submitting Bookseller Favorites using the button below.
Bookseller Favorites
Tell us which titles YOU want to see in the catalog. Due April 21. The majority of our titles are submitted by publishers, but a good portion of them are crowdsourced by our bookseller members. Use the link below to submit the titles you want to sell this holiday season. Suggest titles with pub dates from the Spring/Summer 2023 and Fall 2023 seasons. Catalogs land in homes on October 23. We recommend pub dates no later than December 1.

---

For stores who ordered the catalog last year (2022): You will be contacted directly to place your order for 2023. Do not use the form linked below.
For new stores and those who did not order in 2022: Use the button below to place your order.

Pricing
Custom front & back cover: $150

*Custom print catalogs automatically get a custom digital catalog at no extra charge.

Custom inside front cover: $150
Catalogs shipped to store or newspapers: $30 per box of 500

The first 1,000 catalogs shipped to stores or newspapers are free

Catalogs mailed via customer list or saturation: $0.22 per catalog

Note

: The cost of the first 1000 catalog mailings are no longer supplemented by MIBA.
Complete pricing and ordering details are below. Pro tip: Start early. Catalog orders can require a good deal of information and assets that may take time to collect. Beginning the ordering process as soon as possible will give you the time you need to complete your order by May 5.
New this year! A digital-only catalog option
For those stores who do NOT want to order print catalogs, but have great digital outlets, we're offering custom digital catalogs. Click the button below to see your digital-only options.

---
Timeline
June 30: Bookstore orders due
July 10: Saturation mailings finalized
July 26: Deadline to approve custom covers
September: Catalogs are printed
September 22: Bulk catalogs start shipping to stores and newspapers
October 13 - 17: Saturation and customer list catalogs arrive in home
Here are some ideas for maximizing the catalog.
April - September

Suggest "Bookseller Favorites" to include in the catalog
Order a point of sale package that include a 22 in. x 28 in. poster, 16 shelf/book talkers, and 50 bookmarks
---

Customization options
Custom Front & Back Cover, $150
Bookstores can replace the generic MIBA branding on the catalog cover with their logo and store info (address, website, store hours, etc.). On the back, you can add specific store messaging such as a coupon for catalog titles or additional store information. Click here and look below to view an example of a customized front & back cover from the 2022 catalog. A custom print catalog automatically comes with a custom digital version of the catalog at no additional charge.
Pro tip: Place a coupon on the back of the catalog to incentivize shoppers.
You can submit your graphics for front/back cover customization in two ways:
Submit just the logo and text and we will design it for you
Submit the completed graphic you'd like to appear on the catalog and submit it for us to place
What you'll need for ordering:
Store logo: This will be used on your custom print and digital catalogs

Specs for print: Black & white (NOT grayscale), minimum 300 dpi as a .pdf, .jpg, .tif, .psd, or .ai file
Specs for digital:

Full color, minimum 75 dpi as a .pdf, .jpg, .tif, .psd, or .ai file

Text for front cover: Store info you'd like to include (address, website, contact info, store hours, etc.)
Text for back cover: Include the details of your coupon offer or additional messaging to customers. Note: The back cover customization will only be included in the print catalog, NOT your custom digital catalog.
Store postal address: This is the address that will appear on the back cover as the return mailing address. This must be a physical address (not a PO Box) where mail can be recieved
Store ecommerce website: This will be used in your custom digital catalog.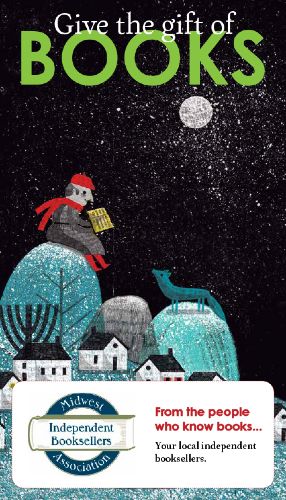 GENERIC MIBA CATALOG COVER
BOOKSTORE CUSTOM FRONT COVER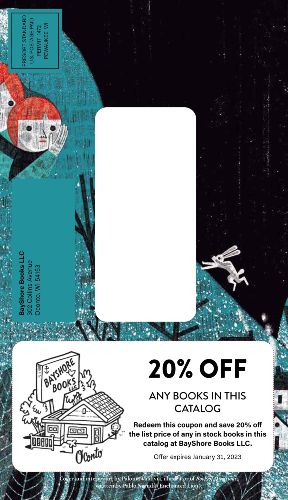 BOOKSTORE CUSTOM BACK COVER
Custom Inside Front Cover, $150
This is another opportunity to replace the generic MIBA branding on the inside front cover. This is a single graphic entirely designed by you. Click here to view an example of a customized inside front cover from the 2018 catalog.
Pro tip: Get creative with the inside front cover. Partner with a local tourism group to promote your region. Sell ads to other local businesses in your area to offset your catalog costs. Feature non-book items your store sells. The possibilities are endless!
Inside front cover specs:
For print: 5" W x 8" H, black and white (not grayscale), high-quality, .jpg, .png, .ai, or print-ready PDF
For digital: 1080 W x 1700 H (pixels), 150 ppi (max file size 500k)
Note: These two spec requirements have different aspect ratios. You will not be able to use the exact same design for both
What you'll need for ordering:
Because designing this graphic is your responsibility and may take time, you may submit your order without the IFC file.
Final IFC files are due May 5.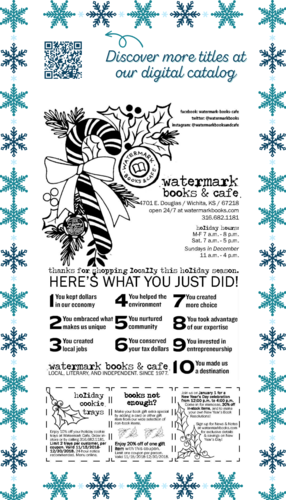 ---
Distribution options
Catalogs to store: $30 per box of 500
First 1,000 catalogs shipped to store or newspapers are free.
You may choose to have catalogs shipped to your store for you and your booksellers to manually distribute to your customers. The catalog makes a great bag-stuffer at the register. Many stores team up with other area businesses or chambers of commerce to stock the catalog in their area.
What you'll need for ordering:
Number of catalogs you want to ship to your store. Must be in quantities of 500.
Customer mailing (in-house List): $0.22 per catalog
Mail catalogs directly to your existing customer mailing list. You provide us with your customer mailing list and we mail the catalogs to them. No need for any additional work on your part.
Requirements for customer mailing list:
The front and back cover must be customized (postal requirement)
Minimum of 200 addresses on your mailing list. We can use saturation mailing to supplement if needed to reach the minimum.
What you'll need for ordering:
Number of addresses on your customer mailing list
Excel or .csv file with your customer mailing information. Must be formated with: recipient name, street address, suite/apartment/unit #, city, state, zip code. Click here to download an excel template.
Saturation mailing: $0.22 per catalog
With saturation mailing, catalogs are sent to every home on a zip code mailing route that you select. Picture this as the route your mail-person walks/drives in a single day. If you've ever recieved a restaurant coupon flyer or the local car dealership's new line-up postcard, then you know about saturation mailing. Saturation mailing is a great way to entice new customers to your store and one of our most popular catalog marketing options.
Catalogs can be sent to homes in a radius around your store, or you can select specific mailing routes to deliver coupons.
Pro tip: Determine your catalog budget first and use that number to determine how many catalogs you want to mail. Understanding how many catalogs you want to mail will help narrow or expand the area you saturate with catalogs.
Requirements for saturation mailing:
The front & back cover must be customized (postal requirement)
Catalogs must be sent to the

entire

mailing route
Additional follow up is required to finalize your saturation mailing
What you'll need for ordering:
Number of catalogs you would like to mail via saturation mailing. This will be used to provide you with zip code routes that match the number of catalogs you would like to mail. (Without this, the options are overwhelming.)
If you would like to target specific zip codes, you'll need to provide those zip codes.
Catalogs to newspaper(s): $30 per box of 500
First 1,000 catalogs shipped to store or newspapers are free.
This method of distribution ships boxes of catalogs directly to your area newspaper(s) for insertion. You will need to coordinate directly with your newspaper(s) for the cost and timing of insertion. The cost to ship boxes to newspapers is $30 per box. The first 1,000 catalogs shipped to your store or newspapers are free.
Currently, catalogs to newspapers are scheduled to start shipping on 9/22/23 with the expectation that they need 5 days for delivery. Talk with your newspaper about the flexibility of insertion dates and the possibility for storing catalogs if they arrive early.
Pro tip: Use the newpaper ordering section of the form to send boxes to multiple store locations or your regional visitor centers.
Requirements for newspaper insertion:
You are responsible for coordinating costs and timing directly with your newspaper(s).
The front & back cover should be customized. While this is not strictly a requirement, it is highly recommended. Without your store name, potential customers will not know where to shop.
What you'll need for ordering:
Newspaper information including name, address, contact person, and phone number.

The address you provide should be the location where the newspaper receives boxes for insertion. This is often different from a newspaper's office location.

Quantity of catalogs to ship to each newspaper. Must be in quantities of 500.
Catalog Specs: (Your newspaper will want this info) One single catalog weighs 0.8528 oz. and is 6 x 10.5 inches