Spring Road Trip: Industry Member Engagement
Join us May 2-3 in Des Moines, Iowa
Hello industry partners!
Scroll the page for our full list of Spring Road Trip opportunities
If you have questions, email our director or schedule a 30-minute virtual meeting.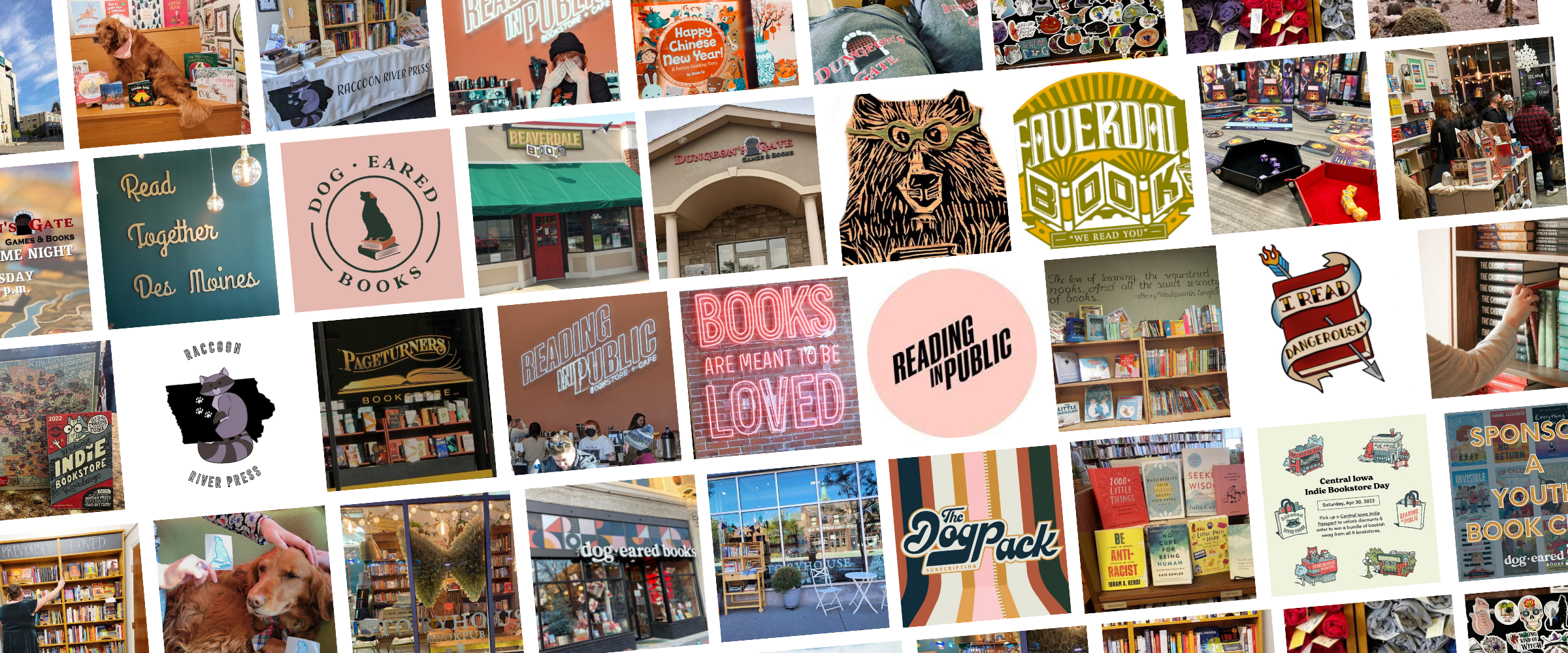 MIBA and our Central Iowa bookstores would like to invite you to Des Moines, Iowa and the surrounding area for our Spring Road Trip. We are proud of our bookstores' dedication to working collaboratively, encouraging one another, offering unique experiences to customers, and supporting a robust indie bookselling community in this part of our region. Learning from other booksellers makes us all better, and we would love to learn together with you!
Des Moines, a city of 215,000, is conveniently located and has much to offer visitors, including unique retail, excellent restaurants, and other attractions. We boast several longtime and newly opened bookstores that each offer something special to area book lovers - all within easy driving distance. We are honored to welcome the bookselling industry to Des Moines to experience numerous bookstores all thriving in different settings.


---
Date and location
Estimated attendance
100 booksellers plus industry partners
Deadline
Author pitch deadline: March 31 (sooner is always better!)
Drive times
Bismarck - 9.5 hours
Chicago - 4.5 hours

Milwaukee - 5 hours

St. Louis - 5 hours

Minneapolis - 3.5 hours

Kansas City - 3 hours
Omaha - 2 hours
Airports
Des Moines International Airport is located close to downtown and offers all the conveniences of a major airport.
Lodging
AC Hotel Des Moines East Village for $169 USD per night. The hotel is a 12-minute walk from the botanical garden and a 2-minute walk to Storyhouse Bookpub
Room block available: May 1 through May 5
Last day to book: April 5


Industry partners: Your participation is truly what makes this event possible. Our spring event is not an income-generating program. We cover the venue, food, and beverage expenses while industry participation ensures we're able to host this unique opportunity and keep it accessible for all of our booksellers. Please help us make it possible!

Sales reps!
The lunch on Day 2 will be designed to showcase our event sponsors and Midwest sales reps. See the agenda for timing.
---
All sponsors receive the following
Recognition on our website

: 1) Your banner ad is featured on the event's main page and the registration page 2) Your company's profile is featured in the Meet Our Sponsors bar on our homepage (where our board of directors is current featured)

Recognition in our communications

: Recognition in all digital marketing and the digital program

On-site activation

: 1) Recognition on meeting tables and 2) your featured item of choice at the registration desk (galley, swag, brochure, etc)

New! Social media coverage.

Local bookstagrammers will take 1 or more of your authors live on Instagram.



Add a sponsorship to your cart
---
Additional perks . . .
Happy Hour Sponsor / $1,500

This event is a collaboration in which we work together to showcase your custom experience via your authors or messaging

Unique perk: Includes 5 minutes to address attendees or other custom feature

Bookstore Bus Tour Sponsor / $1,000

We will charter multiple busses to make this multi-bookstore event a success and allow attendees to see all area stores.

Unique perk: Built-in opportunity to distribute materials/galleys and address attendees while in transport

Thought Leader Sponsor / $1,000

Supply your thought leadership via the foundational experience of this event - professional development

Unique perk: Pitch a session based on a highly relevant topic of your choosing. (Must be approved by MIBA staff and board.)

Meal Event Sponsor / $1,000

Meals are classic, special moments to connect with our attendees

Unique perk: Custom perk based on the author/book you're promoting, such as custom recipe, a giveaway at each seat, etc.

Refreshments Sponsor / $500

Use the coffee/beverage station to showcase your support of indie booksellers

Unique perk: Custom perk based on the author/book you're promoting

Tote Bag Sponsor / $500

Donate 100 tote bags to distribute to each attendee at the registration desk

Unique perk: Your message on the tote bag becomes the backdrop for our event

Badgeholder Sponsor / $500

Donate 100 badgeholders with your custom message

Unique perk: Your message on the badgeholders becomes a main visual image of the event

Bookseller Travel Sponsor / $400

Support accessibility and inclusivity by helping booksellers from all areas of our region make it to this event

Unique perk: Attend a special meet and greet for booksellers and scholarship providers
---

Program Ad / $150 per piece
Our mobile-friendly program features three ads per page as it fits on a screen. Book 1, 2, or 3 ads to maximize your message as needed.
Welcome Table Item / $150 per piece
A welcome table will be hosted at the registration desk where your galley/swag/brochure will be hosted for the duration of the event.

Author pitch deadline
March 31 (sooner is always better!)
What you get
Each confirmed author placement receives the following exposure across all 230 of our member bookstores, not just event attendees. The following benefits are activated from the time of confirmation until the event.
Custom graphic with your author/title hosted on our website
Banner ads that feature all authors featured our weekly newsletters
All titles are included in Edelweiss collection circulated to all MIBA booksellers
Special author features will be sent to booksellers routinely. We're happy to include blurbs, trailers, links to assets, etc.
Access to our bookstore member list
Tips
Target your pitches. Our space is limited, so we suggest pitching no more than three authors
Availbility. Please confirm your authors are able to attend before you pitch them
Representation matters. Pitch a diverse cast of authors to increase your chances at multiple placements
Details
Estimated attendance:

100 booksellers plus industry staff

Galleys: If you are able to supply 80 galleys for all attendees, we encourage it. We request a minimum of 50 galleys. In addition, please supply a galley request form for booksellers who can't attend to request a galley, whether it's paper or electronic. A shipping address will be provided upon confirmation.
Additional opportunities: All authors are invited to join us at all the social opportunities (plus publishers can host bookseller/author dinners as they prefer)
---
Plenary keynote / $1,200

An event dedicated to your author(s) is a headline moment of the entire experience

Panel Presentation / $1,000

Your author is hosted in a panel conversation alongside authors from multiple houses

Small Group Presentation / $700

Your author speaks to a subset of our attendees in a Moveable Feast format

Signing Table / $500

Your author is hosted at a signing table at our opening reception, a kick-off celebration

The following information is provided to hep create a great experience for all of our confirmed author participants. Please contact Carrie Obry if you have questions.
Author schedule / May 2
Optional
9:00-2:00 pm: All authors are invited to join us for chartered bus bookstore tour. RSVP yes or no for the bus tour by April 14. This is a firm deadline.
At the Botanical Garden
3:10-4:00 pm: After general welcome remarks, all 3 keynote authors will be welcomed to the stage to engage in a conversation with our moderator. We will allow ample time for each author to introduce their book, so they should be prepared to have a 3-5 minute overview of their title.

4:00-4:30 pm: Reception authors participate in a rapid round of intros in front of all attendees. Each authors gets 2 minutes to address the crowd and share a hook that will lure booksellers to their signing table.

4:30-5:30 pm: Book signing reception: Keynote authors and reception authors join together for a book signing reception.
At the Raygun/Storyhouse building
7:30-10:00 pm: East Village Bookseller Party: All authors are encouraged to join us at the party in the Raygun building. No RSVP required.
Confirmed keynote authors
Authors be posted soon
Confirmed book signing reception authors
Authors be posted soon
---
If your author is confirmed
1. Book a room (if needed)
A room block is provided at the AC Hotel, a 15-minute easy walk from the Botanical Garden and 1 block from Storyhouse Bookpub, the site of the evening party on May 2. The room block has been extended and the new deadline to book is midnight on Sunday April 23. The room rate is $169. Reserve a room in our group by going here or bycalling the AC Hotel directly at 515-518-6060 and reference the group code MWBN.
2. Ship galleys (or finished books) to receive by April 24
Estimated attendance: 100 booksellers plus industry staff
If you are able to supply 80 galleys for all attendees, we encourage it. We request a minimum of 50 galleys
Ship galleys/books as follows / Receiving deadline: April 24
MIBA Spring Road Trip
c/o Raygun and Storyhouse Bookpub
Author name / Book title
505 East Grand Ave
Des Moines, IA 50309
3. Supply author email address
Send your author's email address to Carrie Obry so we can communicate important event details to them.
4. RSVP for the two bus trips / Deadline April 14
All authors are invited to join us for chartered bus bookstore tour and the East Village Bookseller Party on May 2

If they stay until May 3, they are welcome at the closing reception at Dog Eared as well

No RSVP is required for the party, but we do require an RSVP for the May 2 bus tour as well as the May 3 trip to Dog Eared

Please RSVP yes or no for the bus trips by April 14

REGISTER FOR THE BUS TRIPS HERE