Promotional tools for book industry partners
Capture the attention of indie booksellers throughout the Midwest
We make it easy for publishers, authors, wholesalers, sidelines companies, and book industry partners to reach independent booksellers. Your promotion will target indie booksellers in the Midwest as well as the book industry at large. We require all promotions to link to sales outlets that support indie bookstores.

248 Bookstores
476 Booksellers
313 Members
2,500 Subscribers
---
Average Open Rate: 43%
Average Click Rate: 4%

View promotional products on our dedicated page (each product lists the specifications and overview of our current reservations)
Ad desired promos to your card, and purchase with a credit card, or log into your profile to receive an invoice (don't have an account? No problem! Create an account here)
Once you purchase you'll be provided access to our booking calendar
Search for a specific date and reserve your spot
MIBA receives a notification of your confirmed booking and you're all set
Please note: all assets and graphics are still delivered via e-mail to Melissa Peterson, this is the booking process only.
For custom packages, please contact Melissa Peterson at melissa@midwestbooksellers.org.

Events in 2023
Spring Road Trip · May 2-3, Des Moines, Iowa
Visit the Spring Road Trip event page. Event sponsorship and author placement opportunities available now.

---
Heartland Fall Forum · October 18-20, Detroit, Michigan
Our annual trade show is an exciting event packed with opportunities to reach independent booksellers. They will be posted on Heartland's website in summer of 2023​.

---
Newsletter Sponsored Content
The heart of our communications, our weekly e-newsletter is our go-to resource for indie bookstore information. Organically host your content alongside ours or reserve an entire newsletter.
​​Ideal for: Content-rich information. Get our attention and link to anywhere.
Open rate: 43%
Clickthrough: 4%
Reach: 1,900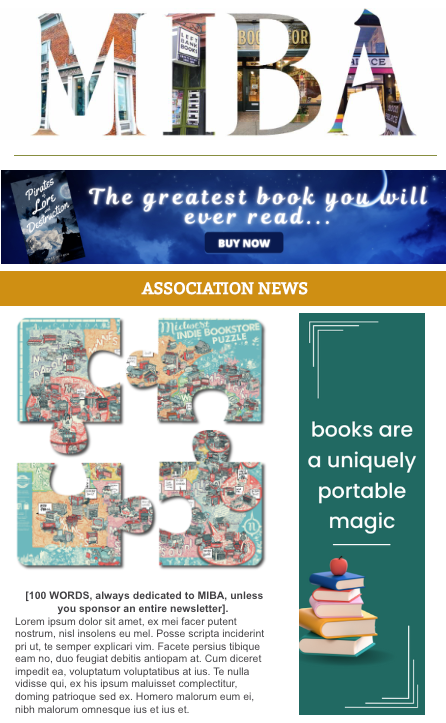 Type
Features
Price

Entire e-newsletter

Promoted story across Facebook and Instagram social media platforms
Unlimited clickthroughs
Five photos, 600 words

$400
---
E-Blasts & Banners
Our most popular promos for a reason. Easy, convenient, and effective. All graphics can be jpg, png, or gif.
Ideal for: Distributing title info, galley requests, call to action, creative assets alert, etc.
Type
Features
Price

Dedicated E-Blast
​32% open rate
5% click-through
1,200 reach
View samples

Supply an image to send to the inboxes of our bookseller and industry members.

​One click-through link, custom subject line

600 W x 800 H - max file size 500k

$300
Banner Ad
​Website: 326 unique visits, 686 page views weekly
Newsletter: 34% open rate, 5% click rate, 1,500 reach
View samples

Place a banner ad in our e-newsletter or on our website.

​600 pW x 125 pH / one click through

$200
All-Regional Banner Ad
View samples
​Brought to you by SIBA, MIBA, GLIBA, NEIBA, NAIBA, PNBA, CALIBA, and MPIBA

Get instant national weeklong industry exposure on the homepages of eight regional trade associations

Two formats required: Horizontal (440 W x 125 H) and Vertical (125 W x 440 H)

$999
---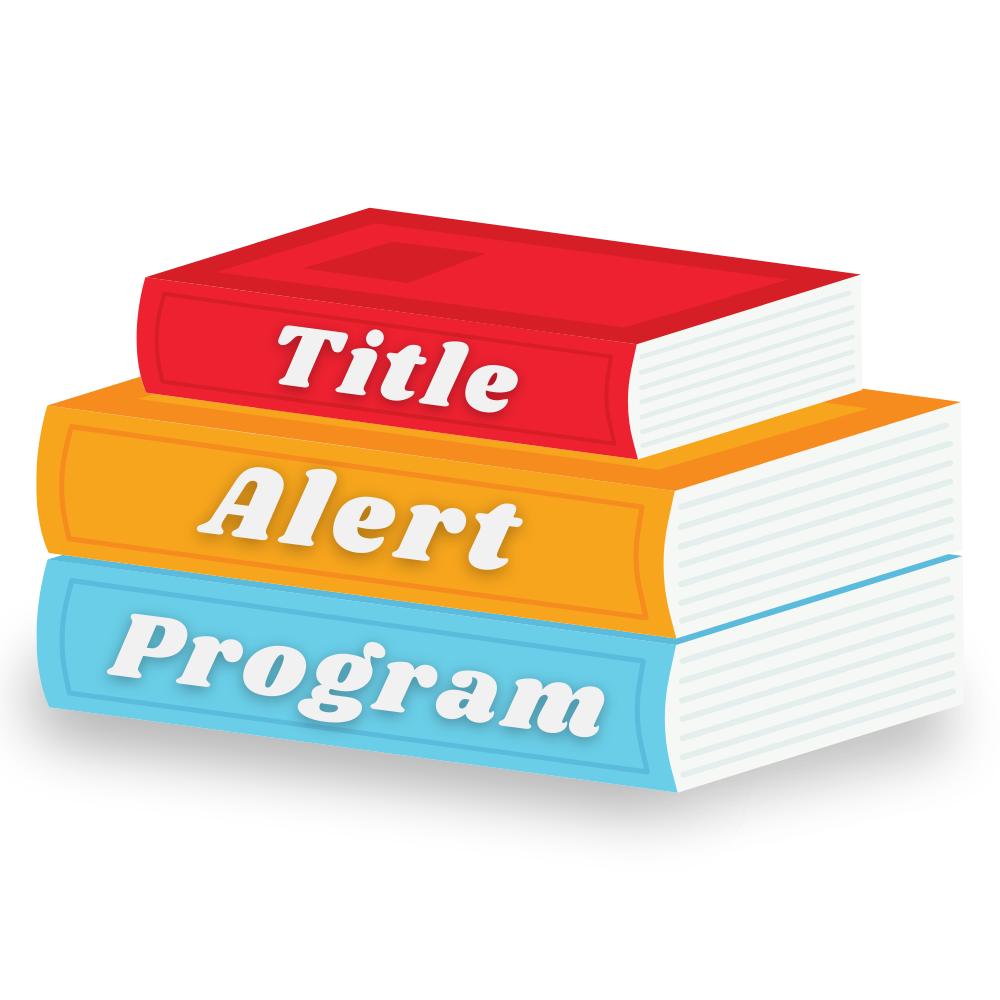 Digital sales rep! Make your forthcoming titles available directly to our booksellers. Each season, we feature your galleys through a standalone email to our booksellers (400 emails), on our closed bookseller Facebook group, in our weekly e-newsletter, in our weekly bestseller list (and printable pdf), and on a dedicated webpage.
Supply: Book cover image, link to galley request form, 50 words of copy
Run time: January 5, May 1, and September 1
---
Regional promotion
Our annual book awards reflect handselling at its best, as all the books are selected directly by independent booksellers. Finalists are boosted via free custom book stickers to our stores, and the winners are celebrated at our awards ceremony in October at the Heartland Fall Forum. Submit your Midwest titles to be included on the list of potential titles for bookseller nomination.

1/2 panel $1,200; 1/4 panel $800
Your roadmap partnership includes print AND digital placement. Perfect for specific titles or general awareness of opportunities from publishers, organizations, sidelines vendors, and book festivals.
Reach: 97,000 distributed

Support: Consumer-facing promotions and contests
Run time: In circulation for one year. Released on Independent Bookstore Day and available until supplies run out
Dedicated social media posts across our most popular channels
Contact us to reserve your spot for 2024!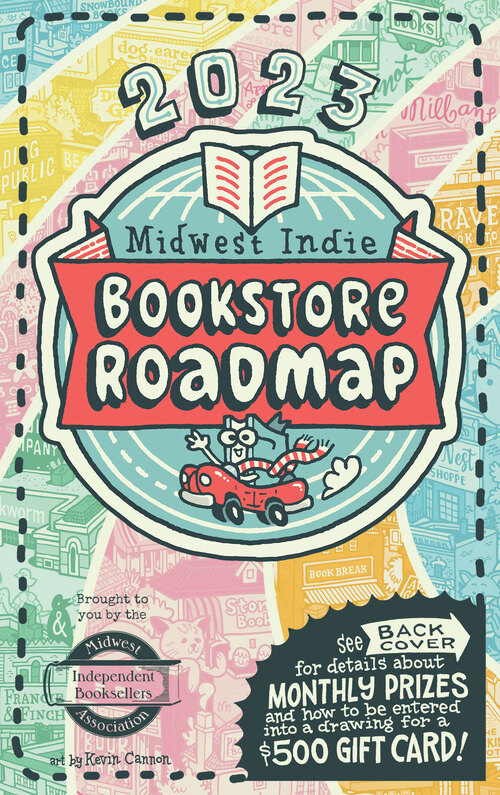 ---
Increasing sales for booksellers and publishers during the busy holiday season.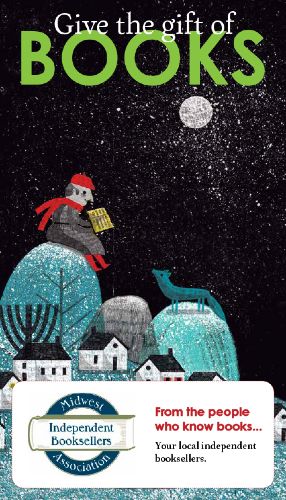 ---
JOB BOARD

• Members: Free / Non-members: ​$75 per post
For our book industry job board, we accept positions of special interest to our independent booksellers. Jobs do not have to be based in the Midwest. Placing a listing here is free for members to encourage circulation among the book industry. For non-members, posts are $75 for the full duration of the job's availability.
---