Back to Events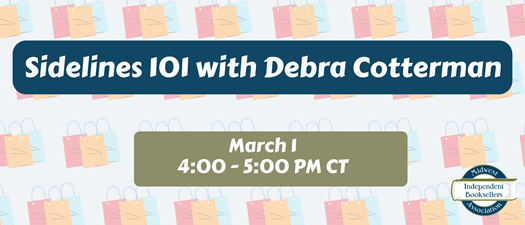 Sidelines 101 with Debra Cotterman
Create a bookstore sidelines strategy with the help of a veteran retailer
Tuesday, March 1, 2022
Event Details
Carrying sidelines is a successful way for bookstores to draw in customers, increase in-store discoverability, and improve the bottom line. This virtual event is open to all booksellers who would like to establish or refresh their in-store sidelines strategy. Starting from 101, we will review why bookstores should carry sidelines in the first place—to improve profitability. We'll review profit and loss statements with varying levels of sidelines budgets to see how it effects the bottom line and discover a budget that might work for you. We'll also look into a few excellent sources to purchase high-turn sidelines for bookstores.
Our host is Debra Cotterman, one of the partners who owns/operates the two bookstores at the Minneapolis-St Paul Airport (Open Book and [words]). A retailer first and a bookseller second, Debra knows how to expertly mix book and non-book product to create a seamless customer experience that boosts a store's bottom line. To strategically supplement what's already on the market, Debra has started her own sidelines company called Bookish Endeavors that supplies bookstore-friendly product to independent bookstores.
While this event is designed as a stand-alone experience, it's also a pre-cursor to an optional in-person experience. We're hosting two opportunities to meet up with fellow booksellers at the Minneapolis Gift Mart, one of the biggest regional wholesale gift marts in the country. With Debra Cotterman as our guide, we will experience a personal tour of the mart, including what to do to get ready, what to bring, and special group appointments with the vendors with bookstore-rich sidelines. Register for one or both of these events at the following links.
For More Information: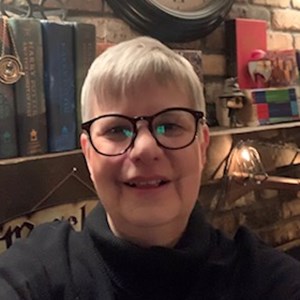 Debra Cotterman
Owner
Open Book MSP
(952)454-1719
Debra Cotterman has been a buyer, inventory manager, and analyst at various retail companies since the 1980s with experience in gift, home, stationary, apparel, jewelry, toy, and even pet product and businesses. Bookstores had always been her personal refuge, so when the opportunity arose to become a partner in two new bookstores in the MSP airport (Open Book and [words]), she was thrilled and has enjoyed combining her deep retail knowledge with her love of bookstore culture. Through this experience, she learned what products she needed to boost her own bookstores' bottom lines and started her own small business called Bookish Endeavors to create product for book lovers that's now carried by independent bookstores across the country.