Congrats, Alex George: Midwest Bookseller of the Year
Date posted
October 4, 2022

Help us congratulate Alex George, 2022 Midwest Bookseller of the Year
In Columbia, Missouri, a mid-America college town with a population of just over 100,000, you'll find Skylark Bookshop, an elegant bookshop with a simple motto—"Because Books." But as anyone who knows Skylark understands, this seemingly simple philosophy is also a deeply held value of the store's owner, Alex George, and it has led him to become a powerhouse of literary accomplishment.
Because of Alex George, Columbia has become a literary haven where the community comes together to celebrate the transformative power of books and reading. We're honored to call Alex George Midwest Bookseller of the Year, an award granted annually to booksellers who make an extraordinary impact on their community.
"Alex George has dedicated his endless energy towards making Columbia, Missouri an oasis for readers and writers through his incredible bookshop and annual book festival. His devotion to books, bookstores, writing, publishing, and the printed word is contagious and has spread far beyond the Midwest." —Emily Johnson, sales rep at Abraham Associates and MIBA board member
Alex's life is dedicated to lifting up his community through a shared love of books. Pamela Klinger-Horn, fellow bookseller and founder of Literature Lover's Night out, says, "Alex George has proven himself to be a force of nature in his community. With Alex George and Skylark Bookshop, Columbia glows like a metropolis of literacy."
The foundation of Alex's literary accomplishments is his own desire to tell a story. He's the author of three novels, all extraordinarily well-received by readers and booksellers—A Good American (2012), Setting Free the Kites (2017), and The Paris Hours (2020).
When he attended festivals across the country to promote his books, he realized Columbia was a fertile place to grow a literary festival, and that's how Unbound Book Festival was born in 2016. The 10,000 people who enjoy this literary weekend each year reap the fruits of Alex's year-long commitment to creating a transformative experience for attendees. In his capable hands, the festival became instantly successful, hosting marquee authors such as Michael Ondaatje and Salman Rushdie in the first two years of its existence. In 2019, author George Saunders attended and said, "Events like the Unbound Book Festival will save this country." To get a sense of Unbound's impact on the community, please enjoy this overview of the 2022 festival.
"Alex is a rare soul. He's a brilliant novelist, but seems happiest when he is shining a light on other writers. He's a passionate reader, but always eager to talk to other readers and hear about their favorite titles. He's a man with a mile-high TBR list who loves to organize events to bring people in the community together. In all those ways and more, he reminds us why we so need and cherish indie booksellers." —Will Schwalbe, author of The End of Your Life Book Club and We Should Not Be Friends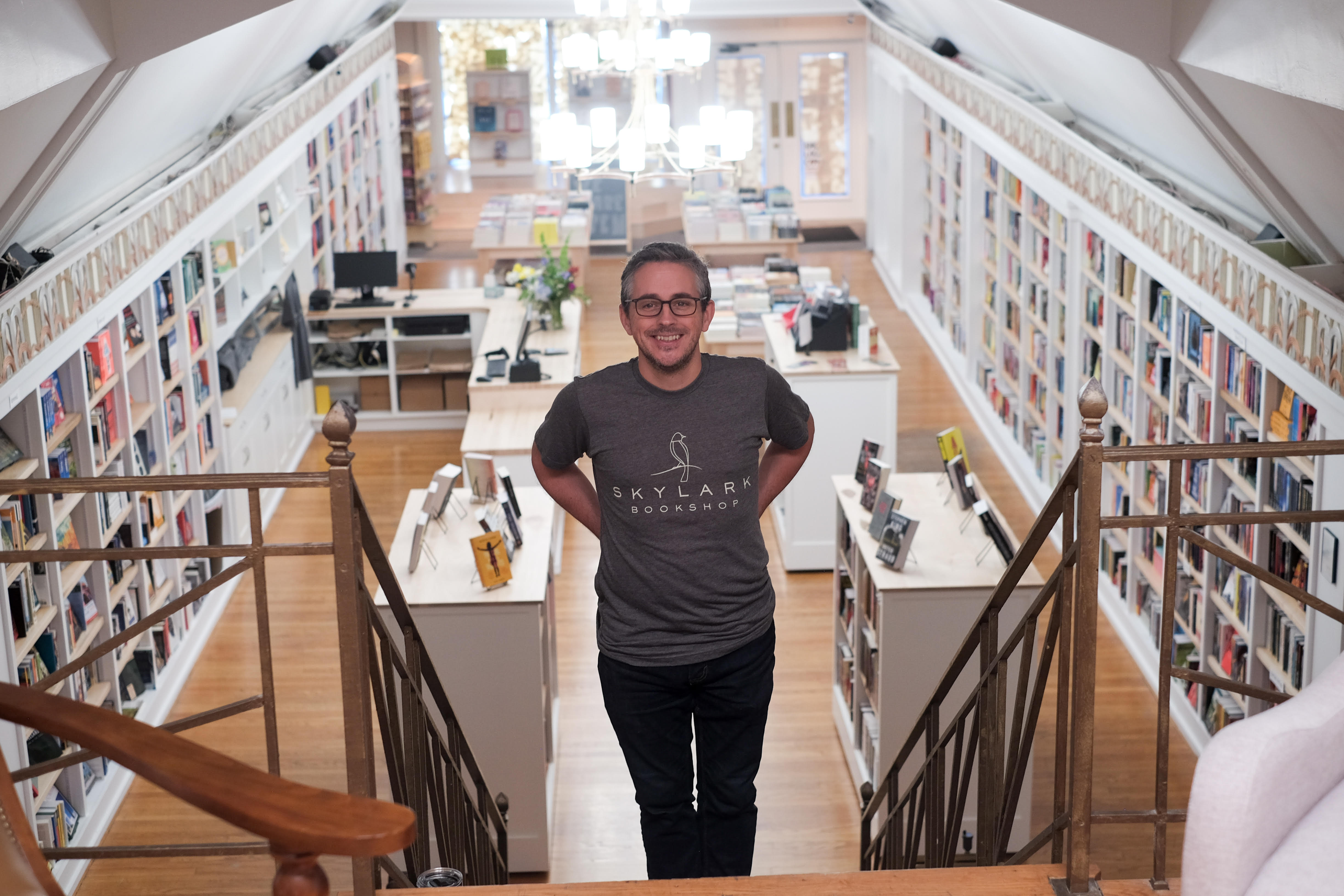 For Alex, the success of Unbound Book Festival was proof that the community would also choose to support a new independent bookstore. In addition to Yellow Dog Bookshop, which has served the community since 1995, Alex saw room for a general interest bookstore focusing on new titles. Along with his business partner Carrie Koepke, Alex opened Skylark Bookshop in August 2018. With 2,700 square feet and nearly 20,000 titles in stock, Skylark instantly become a vibrant facet of the community.
"Alex George is a hero to the literary scene in Columbia. Not only does he run the coolest bookstore with the best curated collection, he founded the local book festival, which brings nationally celebrated authors to our small city. As a successful author in his own right, Alex has helped me and countless other local writers navigate the occasionally rough waters of publication, and during the depth of the pandemic, he was not above hand-delivering books to the doorstep of those who, like me and my family, were in lockdown in their homes."—Dr. Phong Nguyen, director of creative writing at the University of Missouri
While factions of society are limiting or outright banning freedom of expression, Skylark is proudly celebrating it. They've launched a Banned Books subscription service, circulating these important books to their customers with 10 percent of proceeds going to the Banned Books program run by EyeSeeMe African American Children's Bookstore in St. Louis. Sklyark also brought their popular Drag Story Hour roaring back to life after the pandemic to celebrate gender inclusivity.
Alex Goerge says that Skylark Bookshop would never have existed without Carrie Koepke, his partner in founding the store and the current manager, and shares his gratitude for their incredibly talented team of booksellers, some of whom have been with Skylark from the very start: Beth Shapiro, Erin Regnieri, Matthew May, Maile Newberry-Wortham, Rilla Patterson, Kara Cheslock, Henry Nguyen, and Sky Koepke, and Mary O'Malley.
Author Lynne Jensen Lampe raves about the store and Alex's role, saying "In just a few years, Skylark Bookshop has become a community touchstone. I think of Alex as a connector who—with the other welcoming folks who work there—links readers and authors in an inclusive space that celebrates books in a way that celebrates life."
What makes Alex George's accomplishments even more worthy of celebration is that he's also extraordinary human being. His kindness toward others makes him a catalyst for good. Mary Webber O'Malley, one of Skylark's staff members, says, "Alex George is completely devoted to the world of books and the people who inhabit that world. He is a true champion."
Carrie Koepke says, "Alex often says bookshops are a force for good in their community, but the truth is that Alex is a force of his own. Never have I met someone who so joyfully loves books and what they bring to people. That enthusiasm sustains an impossibly delightful partnership that allows us to echo his enthusiasm through action and community."
Will Schwalbe, says, "Alex is also beloved for his quiet acts of kindness and the playful spirit he brings to all he does. I'm proud to call him a friend."
We hope bookstore lovers near and far will help us congratulate Alex George on his extraordinary accomplishments. He will be granted the Midwest Bookseller of the Year award at the Heartland Fall Forum on October 12-14, and will receive an all-expense-paid trip to St. Louis to attend the show.