Back to Events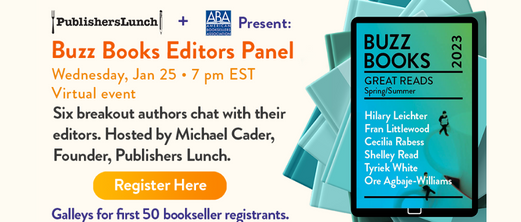 Buzz Books Editors Panel
Wednesday, January 25, 2023
Event Details
Publishers Lunch and the American Booksellers Association will present a virtual Buzz Books Editors Panel, hosted by Publishers Lunch founder Michael Cader.
Six "breakout authors" will discuss new titles with their editors. The titles are:
Go as a River

by Shelley Read (Spiegel & Grau)

Shelley Read is a fifth generation Coloradoan who lives with her family in the Elk Mountains of the Western Slope. She was a Senior Lecturer at Western Colorado University for nearly three decades, where she taught writing, literature, environmental studies, and Honors, and was a founder of the Environment & Sustainability major and a support program for first-generation and at-risk students. Shelley holds degrees in writing and literary studies from the University of Denver and Temple University's Graduate Program in Creative Writing. She is a regular contributor to Crested Butte Magazine and Gunnison Valley Journal, and has written for the Denver Post and a variety of publications.

We Are a Haunting

by Tyriek White (Astra House)

Tyriek White is a writer, musician, and educator from Brooklyn, where he served at-risk and marginalized youth, artists, and scholars in the classroom. He is currently the media director of Lampblack Lit, a literary foundation which seeks to provide mutual aid and various resources to Black writers across the diaspora. He has received fellowships from Callaloo Writing Workshop and the New York State Writer's Institute, among other honors. He holds a degree in Creative Writing and Africana Studies from Pitzer College, and most recently earned an MFA from the University of Mississippi.

Amazing Grace Adams

by Fran Littlewood (Holt)

Fran Littlewood has an MA in creative writing from Royal Holloway, University of London. Before her MA, she worked as a journalist, including a stint at the Times. She lives in London with her husband and their three daughters. Amazing Grace Adams is her debut novel.

The Three of Us

by Ore Agbaje-Williams (Putnam)

Ore Agbaje-Williams is a British Nigerian writer and book editor from London.

Everything's Fine

by Cecelia Rabess (S&S)

Cecilia Rabess previously worked as a data scientist at Google and as an associate at Goldman Sachs. Her nonfiction has been featured in McSweeneys, FiveThirtyEight, Fast Company, and FlowingData, among other places. Everything's Fine is her debut novel.

The Terrace Story

by Hilary Leichter (Ecco)

Hilary Leichter is the author of Temporary, which was a finalist for the Center for Fiction First Novel Prize and the NYPL Young Lions Fiction Award, and was long-listed for the PEN/Hemingway Award. Her writing has appeared in Harper's Magazine, the New Yorker, the New York Times, n+1, and Conjunctions. Leichter was the Summer 2022 Picador Guest Professor for Literature at University of Leipzig and is the recipient of fellowships from Yaddo, the Folger Shakespeare Library, and the New York Foundation for the Arts. She teaches at Columbia University and lives in Brooklyn, New York.