Back to Events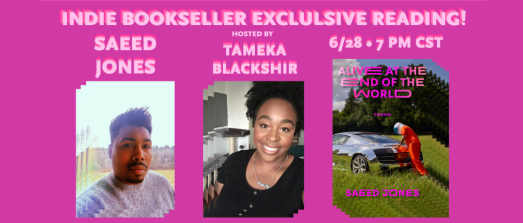 Indie Bookseller Exclusive Access Event with Saeed Jones
Tuesday, June 28, 2022
Event Details
*This event is for booksellers only
About this event
Join award-winning author Saeed Jones (How We Fight For Our Lives, Prelude to Bruise) for a private reading from his forthcoming poetry collection, Alive at the End of the World, exclusively for independent booksellers. Tameka Blackshir from Reparations Club in Los Angeles will host a brief question and answer session with attendees after the reading.
About Alive at the End of the World:
"A vital and commanding sophomore poetry collection from one of America's most engaging poets. Essential reading." —Danny Caine, Raven Book Store
"A serious argument for community, and the rebellion of joy." —Ada Limón, NPR's The Slowdown
"Jones writes in the space between wreckage and resilience. He offers a calibrated reckoning with his own grief, cradled in ambiguity—and we wait, holding our breath, to see what is tendered next." —Erin Overbey, The New Yorker
In haunted poems glinting with hard-earned laughter, Saeed Jones confronts the afterlife of his own grief in order to make sense of our shared calamity. Amid the peril of mass shootings, climate change, and systemic failure, he identifies moments that seem routine even as they open chasms of hurt.
Jones waltzes with chaos, bringing forth cultural icons like Whitney Houston, Toni Morrison, Little Richard, and Paul Mooney to illuminate how long and how richly we've been living on top of fault lines. As these poems seek ways to love and survive through America's existential threats, Jones ushers us toward the realization that the end of the world is already here—and the apocalypse is a state of being.
About Saeed Jones:
Saeed Jones was born in Memphis, Tennessee, and grew up in Lewisville, Texas. His work has appeared in the New Yorker, the New York Times, and GQ, and he has been featured on public radio programs including NPR's Fresh Air, Pop Culture Happy Hour, It's Been A Minute with Sam Sanders, and All Things Considered. He lives in Columbus, Ohio, with his dog, Caesar, and tweets @TheFerocity.
*This event is for booksellers only