Back to Events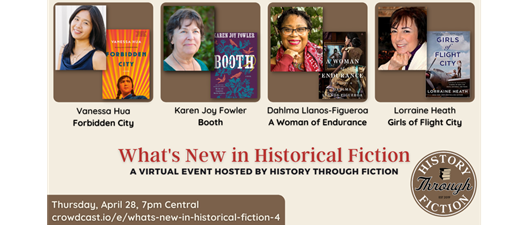 What's New in Historical Fiction - Spring Panel
Thursday, April 28, 2022
Event Details
Please join History Through Fiction for What's New in Historical Fiction, a regular panel series featuring historical novelists with new and upcoming titles. Moderated by History Through Fiction editor, Colin Mustful, this special panel features:
Vanessa Hua, author of Forbidden City
Karen Joy Fowler, author of Booth
Dahlma Llanos-Figueroa, author of A Woman of Endurance
Lorraine Heath, author of Girls of Flight City
Vanessa Hua is an award-winning, best-selling author and columnist for the San Francisco Chronicle. For more than two decades, she has been writing about Asia and the diaspora, filing stories from China, Burma, Panama, South Korea, and Ecuador. Her novel, Forbidden City, tells the story of Mei, a teenage girl living in 1960s China who becomes Mao Zedong's protégée and lover.
Karen Joy Fowler is the New York Times bestselling author of six novels and three short story collections. Her previous novel We Are All Completely Beside Ourselves, won the 2014 PEN/Faulkner Award for fiction and was short-listed for the 2014 Man Booker Prize. Her newest novel, Booth, an epic and intimate novel about the family behind one of the most infamous figures in American history: John Wilkes Booth.
Dahlma Llanos-Figueroa was born in Puerto Rico and raised in New York City. She is an award-winning author who also taught creative writing and language and literature in the New York City public school system before becoming a young-adult librarian. Her newest novel, A Woman of Endurance, is a groundbreaking novel that illuminates a little discussed aspect of history—the Puerto Rican Atlantic Slave Trade—witnessed through the experiences of Pola, an African captive used as a breeder to bear more slaves.
Lorraine Heath is a New York Times and USA TODAY bestselling author. A prolific author of more than 60 novels, she writes numerous genres for a variety of ages while writing under several pen names. Her newest novel, Girls of Flight City, is a breathtaking WWII historical novel about the brave American women who trained the British Royal Air Force. It is inspired by true events.
For More Information: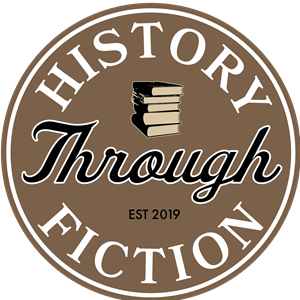 History Through Fiction
3050 Old Highway 8 apt. 328
Roseville, MN 55113
United States
(651)788-0055
Donations
Registration is free. However, a donation of $5 or less will be greatly appreciated. History Through Fiction is a small, independent press and will use the contributions to offer more events like this one.