Bookstore and Beacon: Owners of Moon Palace Books granted the Midwest Bookseller of the Year award
Date posted
October 20, 2020
We're celebrating the transformative power of independent booksellers by granting the Midwest Bookseller of the Year award to a pair of booksellers who've had an extraordinary impact on their community this year—Angela and Jamie Schwesnedl, owners of Moon Palace Books in Minneapolis, Minnesota.
Thanks to Angela and Jamie's dedication over the past 8 years, Moon Palace is known for its expansive footprint—within its physical space and the hearts of the community. Moon Palace is radically welcoming, with a generosity of spirit that radiates throughout the community and the book industry at large. In a year no one could have predicted, Angela and Jamie responded to both the pandemic and the civil unrest after the killing of George Floyd by prioritizing the safety and well-being of their community before their bottom line.
Jessica Peterson White, owner of Content Books in Northfield, MN says, "Jamie and Angela have adapted their business to the pandemic and the heartbreaking destruction of the neighborhood with agility and care, setting a brilliant example of resilience and allyship for booksellers across the Midwest and the country."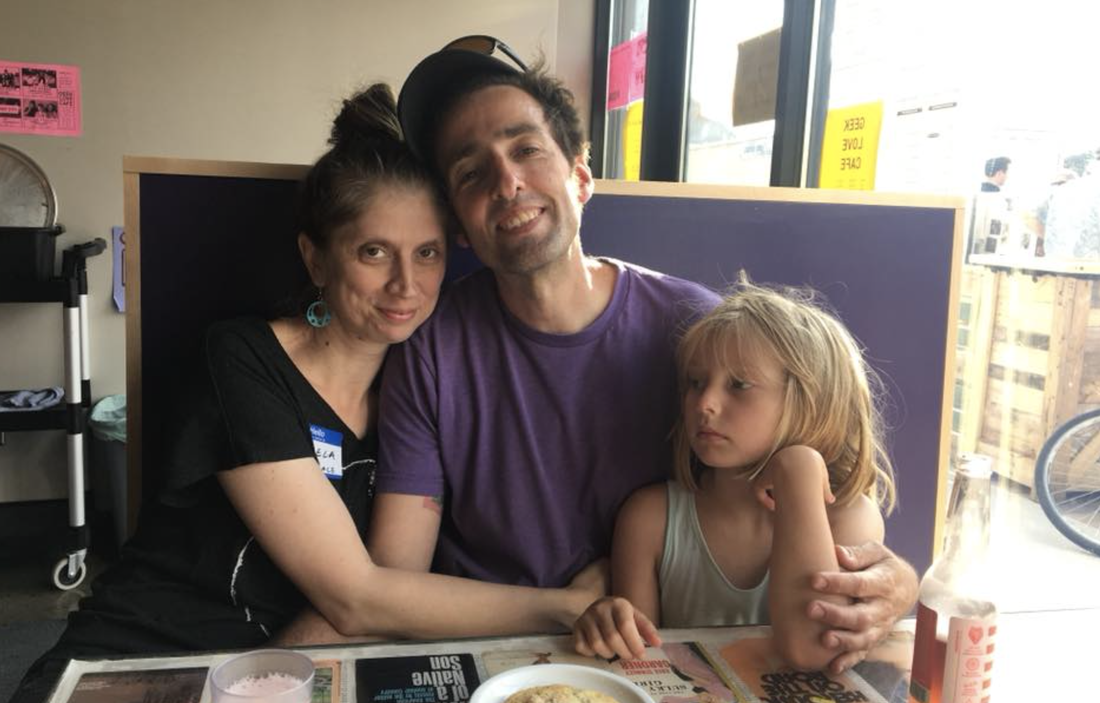 Angela and Jamie Schwesnedl with their daughter Roxie in Geek Love Cafe in their current location
---
What made them who they are today
Angela and Jamie carefully built Moon Palace book by book, decision by decision.
Opening in the fall of 2012, they started out in a small location a short walk off a popular thoroughfare in South Minneapolis. In July 2016, they upgraded to a larger location on the main drag next to other independent businesses. Famously, a 60-person team joined together to move 10,000 books down an assembly line and into the new store, a joyful event demonstrating the close ties between Moon Palace and its customers.
As much of an upgrade as this new location offered, Jamie and Angela still saw the move as an intermediary one as they geared up to operate in an even more expansive way. They dreamed about having enough space to create "a bookstore that has stuff going on in it beyond being a bookstore from dawn to dusk," says City Pages.
In October 2017, Angela and Jamie found the location where they could fully demonstrate their deep commitment to community engagement. Moon Palace's third home is a tremendous multipurpose space located at one of the most densely urban corners in Minneapolis, featuring two floors of new and used books, a restaurant called Geek Love Café, and a separate performance venue for readings and bands.
Anitra Budd, longtime South Minneapolis resident and customer of the store, says "it's like their heart grew bigger each time they moved. Their location at Minnehaha and Lake is so welcoming and versatile, it allows them to demonstrate their values in a really big way. It's one of the most welcoming and community-driven businesses in the city."
The location is a "much-needed anchor that has had a profound impact on the community," says Peterson White—"from kids who come to drag storytime, to farmers selling their goods on Saturday mornings, to poetry fans who've been treated to the work of Minnesota Prison Writing Workshop participants, to name a few."
Moon Palace also hosts the Twin Cities Queer Book Club, provided free meals for people in the community experiencing homelessness during the pandemic, and worked with Milkweed Editions to donate books to inmates.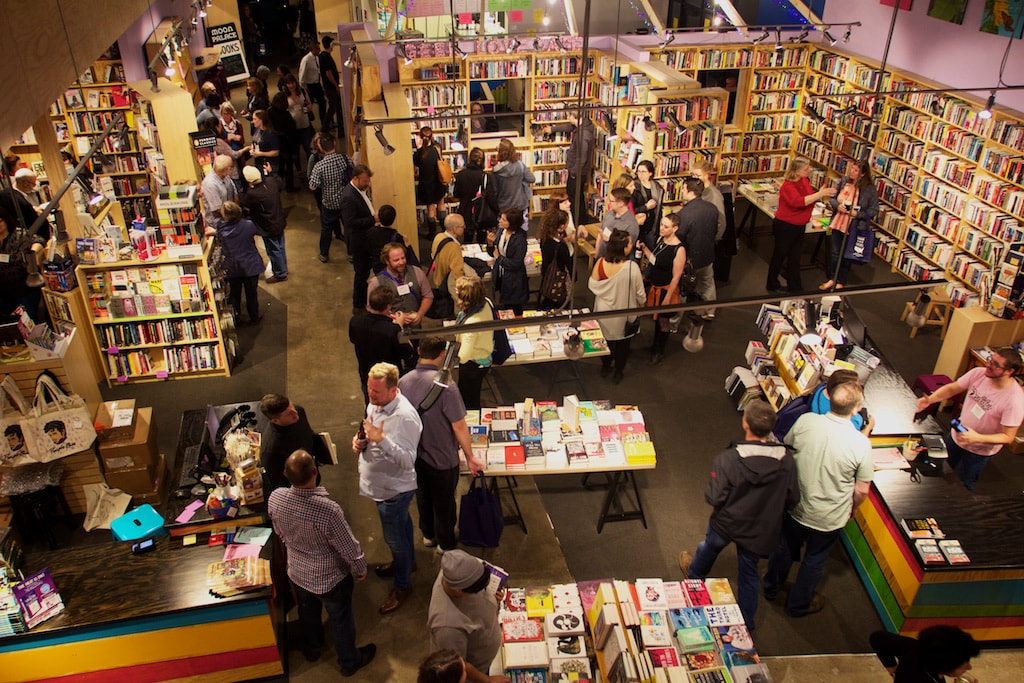 Inside Moon Palace during the opening reception of Heartland Fall Forum in 2018
---
Industry players
Independent booksellers are known for their generosity towards one another, and the Schwesnedls exhibit that kind of caring regularly. Giving back to others, even their competitors, is built into their ethos.
Angela attends industry events, often with her young daughter on her arm. She's become known as someone we all can reach out to. Claire Kirch, Publishers Weekly's Midwest correspondent, says, "I've seen Angela at trade shows walking newbie and prospective booksellers around, introducing them to people, giving them pointers on how to do shows. Angela is one of this industry's unsung heroes."
Tory Hall, a bookseller at Chapters Books & Gifts in Seward, NE, says "Angela is infinitely approachable to ask questions about the industry. I've reached out to her multiple times with questions and she always has time to listen and respond."
When Zsamé Morgan began her preparations to open Babycakes Book Stack, she built a friendship with Moon Palace as a place to learn the ropes. She says, "Angela tirelessly mentored me, provided a listening ear and critical feedback and gave me a strong foothold in the bookselling community. Jamie has been generous to a fault with his wisdom and practical advice. Together, this powerhouse couple, the staff, and the store itself have become an immovable force for good—for diversity, inclusion, and community involvement, for honesty and integrity."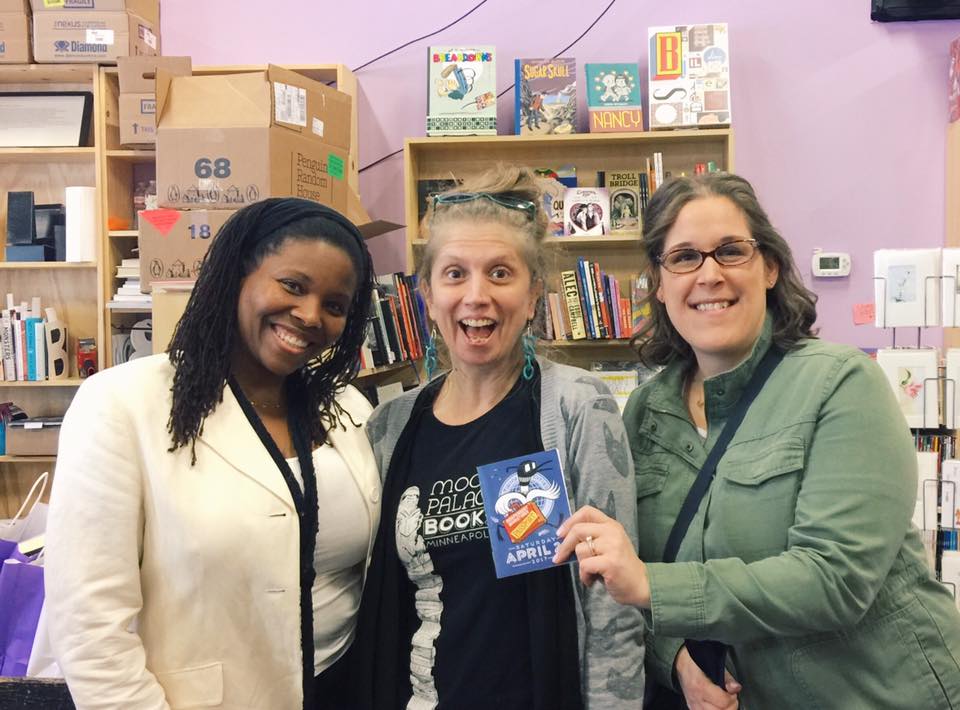 L to R: Zsame Morgan, Angela Schwesnedl, and Carrie Obry in 2017 at Moon Palace on Independent Bookstore Day
Angela and Jamie are also lauded by our publishing partners for their finesse when it comes to navigating and hosting author events. In late July 2019, Anchor (an imprint of Penguin Random House) brought Oyinkan Braithwaite to the U.S. from Nigeria to tour for the paperback of her novel My Sister, the Serial Killer. Because the Upper Midwest hit above its weight in hardcover sales for the novel, Anchor decided to have one of Braithwaite's five U.S. stops here and booked Moon Palace since they'd been an early supporter of the novel.
Jason Gobble, Moon Palace's sales rep at Penguin Random House, says, "As we all know, just because a book does well doesn't mean an event will, but it was a wonderful evening—a packed house, full of warmth and excitement. The author was happy, the publisher was happy, and I couldn't have been happier. That's what Angela and Jamie do—they work very hard, then make it seem effortless."

Oyinkan Braithwaite in Moon Palace's event space at their current location
Photo compliments of Jason Gobble
---
Becoming a beacon
In a year that will go down in history as one of the most challenging in recent memory, Angela and Jamie showed their true colors once again by putting the well-being and safety of the community first with every decision they made.
During the pandemic, they closed their doors to foot traffic and turned the store into a busy shipping and customer service center. They let their creative spirit shine when they installed a pickup window so customers could safely interact to get their purchases.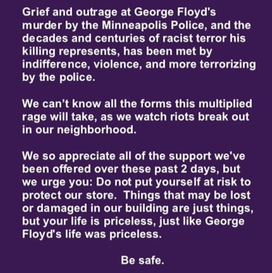 What might become the most emblematic decision of Moon Palace's history is the way Angela and Jamie chose to respond to the massive civil unrest following the killing of George Floyd. Moon Palace is located at ground zero of the uprising, a few buildings down from the Minneapolis Third Police Precinct burned by demonstrators.
In a moving demonstration of solidarity, Angela and Jamie met the needs of the protestors—leading many people to conclude that it was their support that saved their business from harm. As widows were busted, stores looted, and the neighborhood burned around them, Moon Palace emerged unscathed, as Morgan says, "firmly standing as a living monument to justice and all things literary."
Jamie emerged as a staunch supporter of the demonstrators and a national voice for putting people before property. He scrambled to stop the police from setting up a staging area next to the store and Geek Love Cafe turned out pizza for people in the streets. When customers offered to help pay, Jamie said to send donations to George Floyd's family.
As quoted in the New York Times, Jamie shared a post to their social media asking people not to put themselves "at risk to protect our store. Things that may be lost or damaged in our building are just things, but your life is priceless, just like George Floyd's life was priceless. Be safe."
"Through Moon Palace, Angela and Jamie have been a voice and a fearless champion for the disenfranchised in a heartbroken community," says Morgan.
The following is a gallery of pictures Jamie took from in and around the store during the uprising.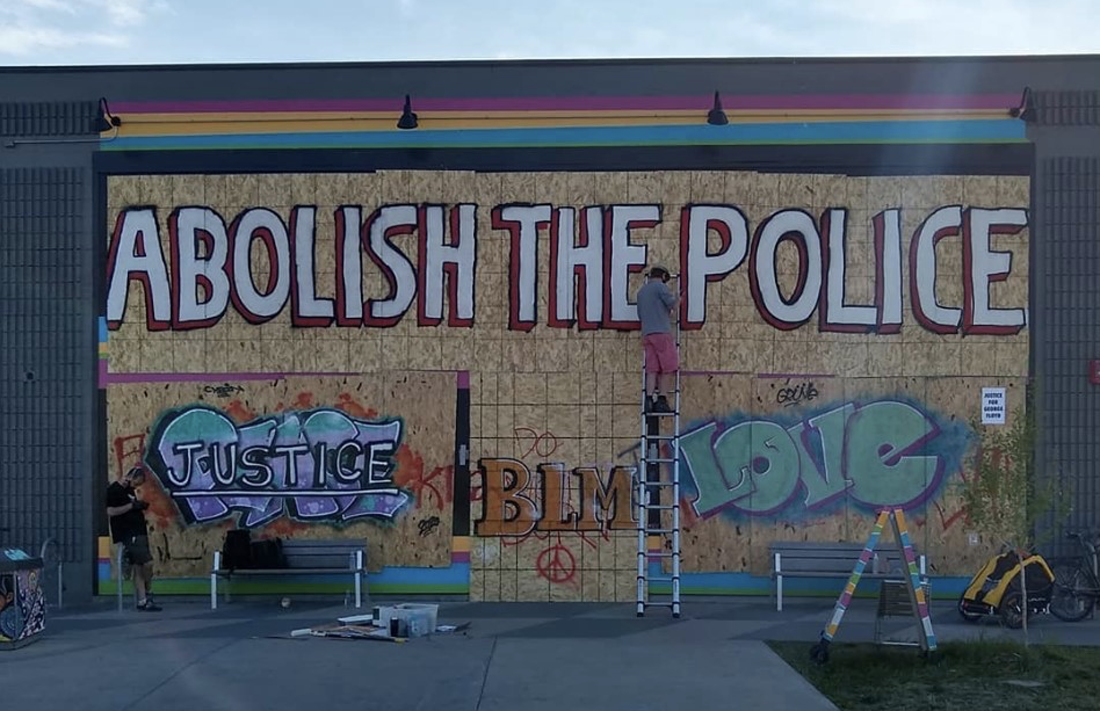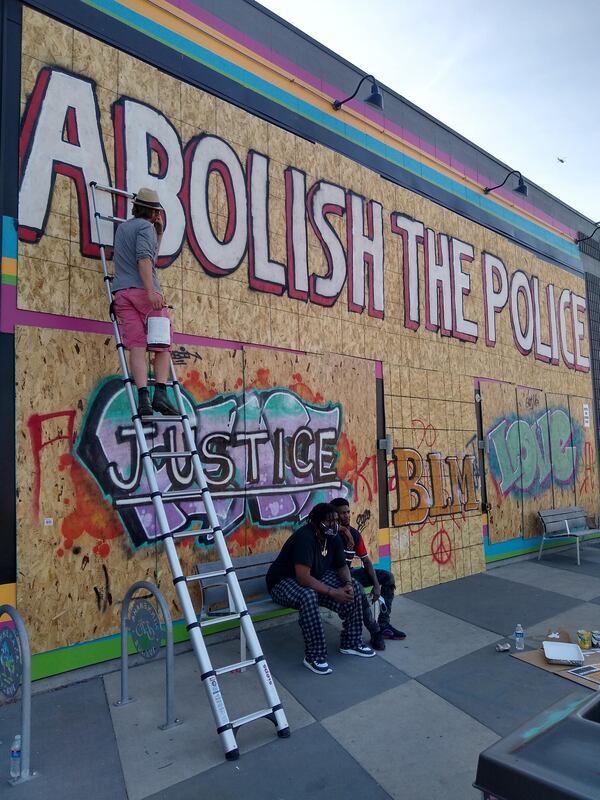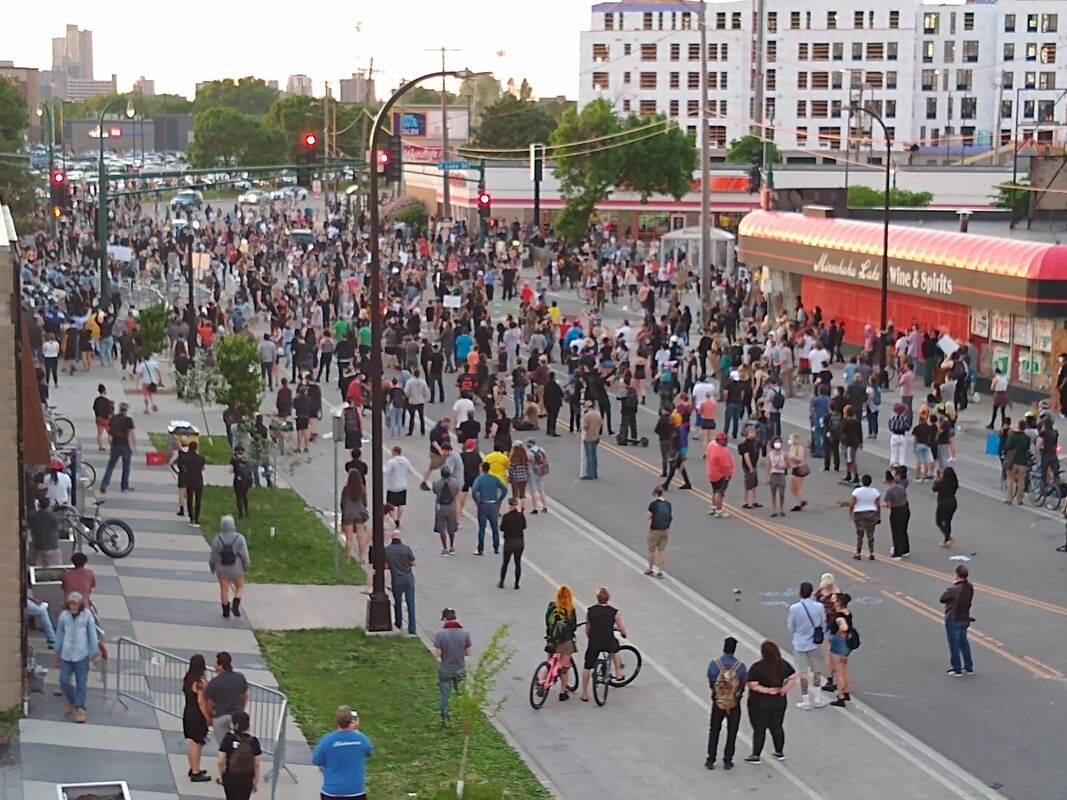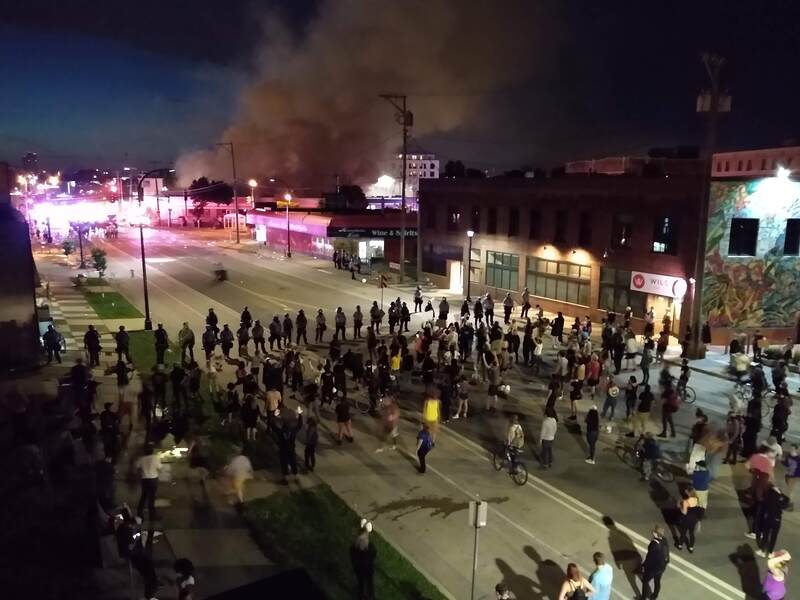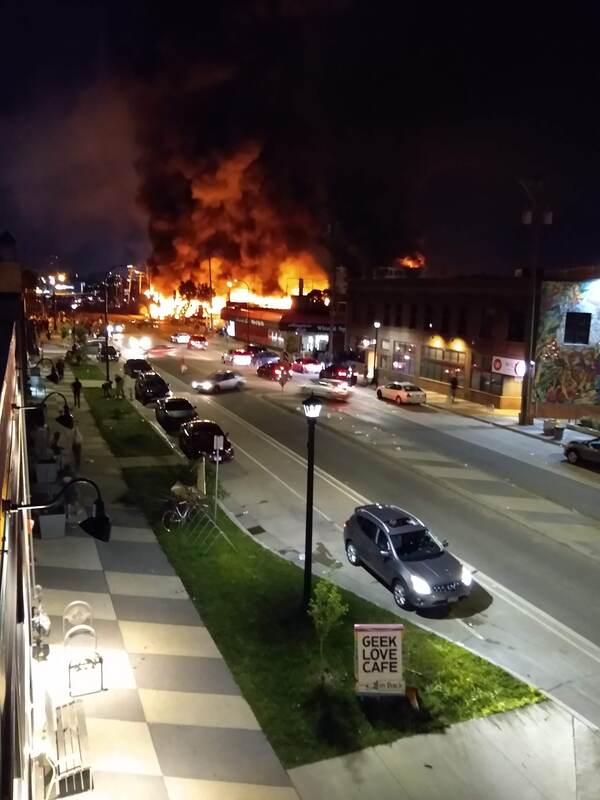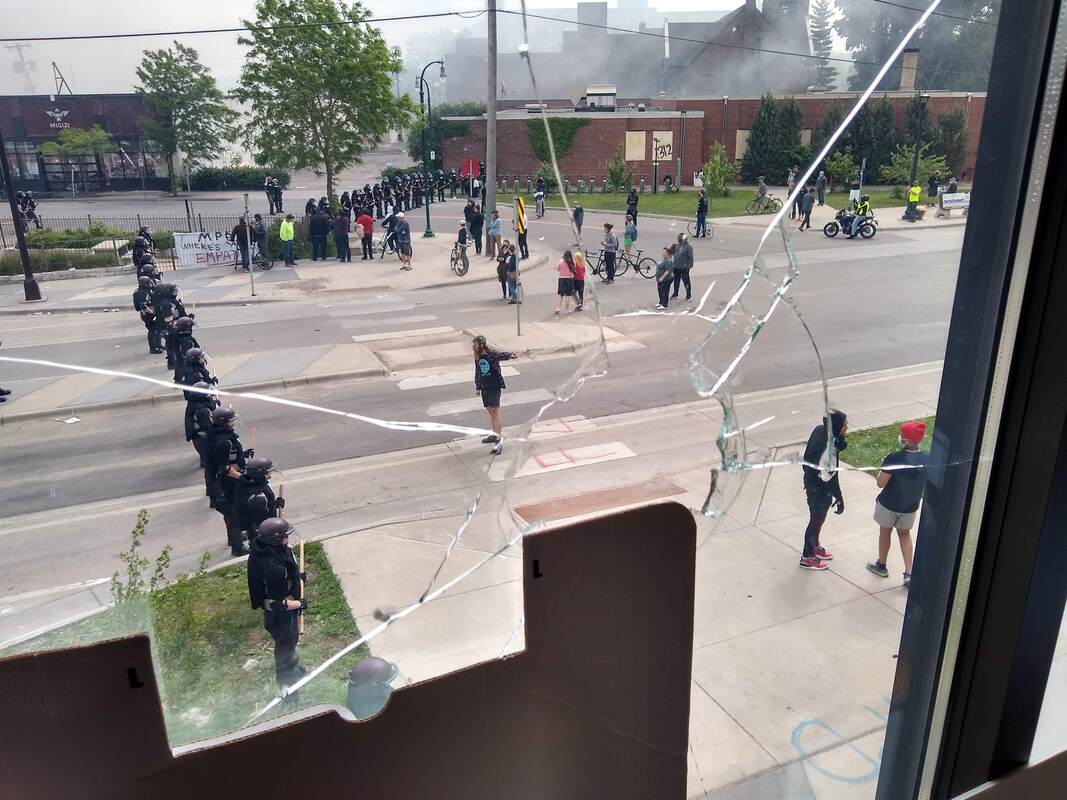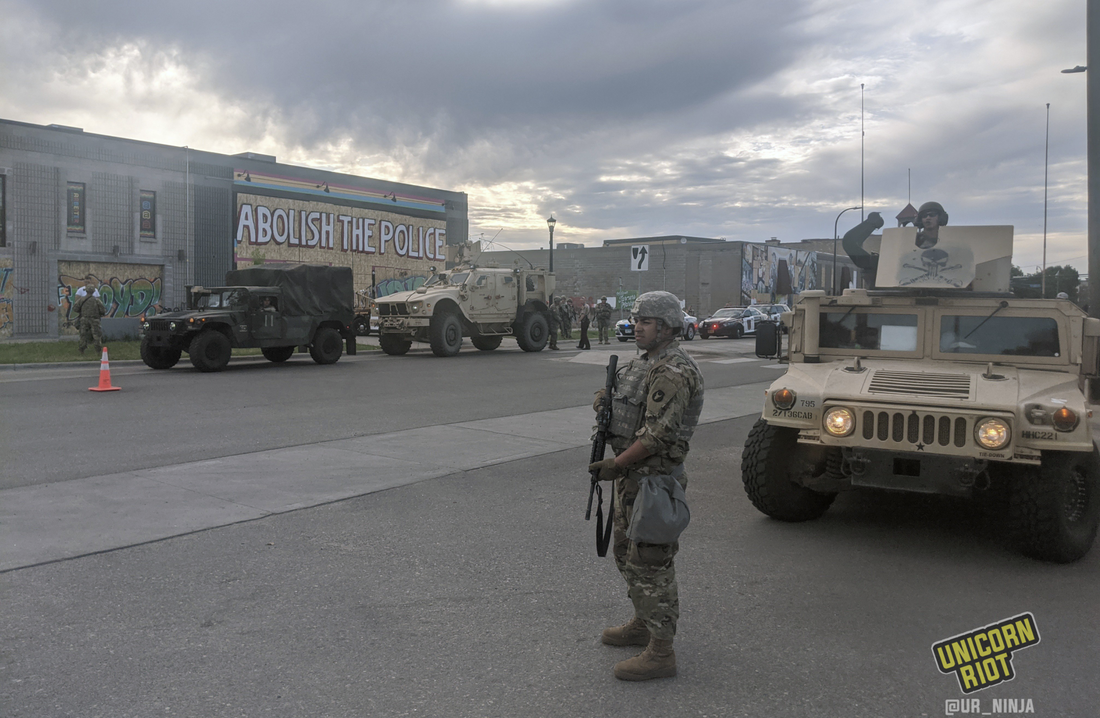 Moon Palace's story is ultimately one of perseverance, through three locations, a global pandemic, and civil unrest. The bright colors on their storefront, the adorable sloth mascot sitting on books and eating pizza--they tell you to keep calm and keep on reading. Their storefront untouched by fire or vandalism suggests there's hope to be had, that we will come together to embrace a new day free from racism.
Jason Gobble, Moon Palace's sales rep for Penguin Random House, says "They promote the power of books to make the world a better place, and the world's a better place because of them."
Please join us in congratulating Angela and Jamie Schwesnedl and celebrating Moon Palace Books.
---