Danny Caine, Owner of The Raven Book Store, Recipient of Midwest Bookseller of the Year Award
Date posted
September 11, 2019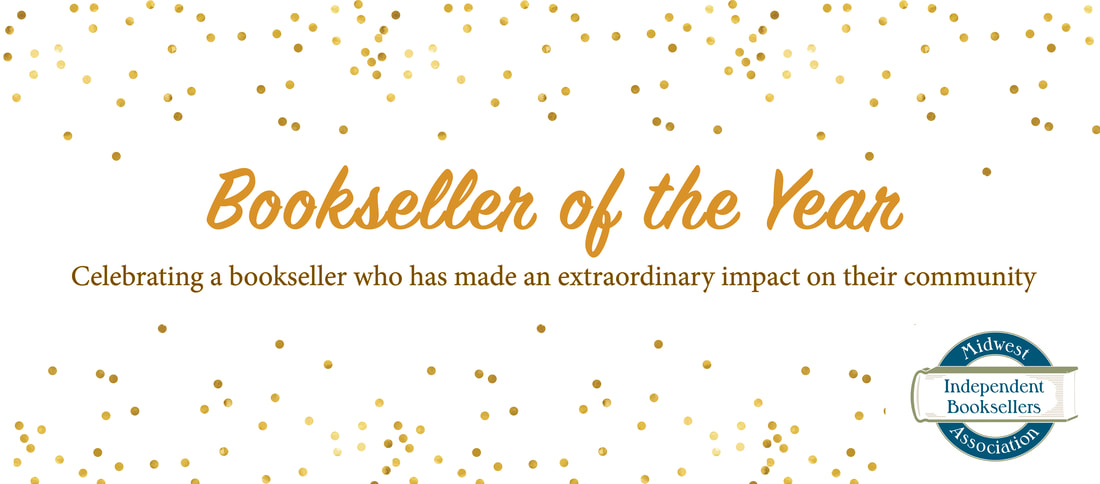 We're celebrating the transformative role booksellers play in the world by granting the Midwest Bookseller of the Year award to an independent bookseller who has had an extraordinary impact on their community. This year, we're honored to give the Bookseller of the Year award to Danny Caine, owner of The Raven Book Store in Lawrence, Kansas.
Running a successful independent bookstore involves so many moving parts, coordinating them all demands the skills of an orchestral conductor. But when a store gets it right, they find their voice and become a beacon for booksellers, publishers, authors, and readers locally and nationally. With Danny Caine as its owner, The Raven has found its voice and is using it to strengthen independent bookselling. Please read on to see why Danny is so deserving of this award.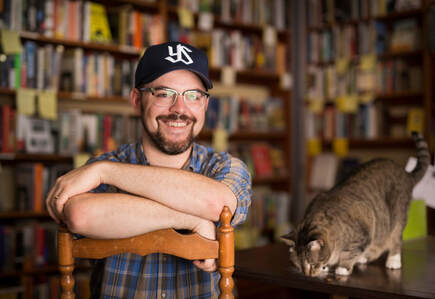 ---
Overview
Danny, who bought The Raven Book Store in August 2017 when he was one of the store's employees, is marked by his passion for bookselling and his cheerful, approachable demeanor. He believes in the power of books to bring people together in big and small ways—consistently giving a platform to underrepresented authors, demystifying the bookselling industry, and educating consumers in the service of helping every indie bookstore sell more books.
David Enyeart, manager of Next Chapter Booksellers in St. Paul, MN and member of MIBA's board, says, "Danny Caine is walking, talking, tweeting proof that booksellers in the center of the country are as vital and valuable as those anywhere else. As an advocate for his store and his profession, Danny reminds us all to speak up for what we value."
Liz Barrett, frontline manager at Dragonfly Books in Decorah, IA, says he is "a smart, funny, and likable person—which he uses perfectly in our industry. I love his fun, yet educational approach to bookselling. He is always willing to work with others to better our organization as a whole. Danny Caine is not only a skilled bookseller but a huge asset to all indie bookstores."
As a published poet, active member of the association, and firm supporter of the Midwest ("I'm a proud flyover citizen for life," he says), Danny is a talented and ambitious face of the indie bookstore renaissance both regionally and nationally.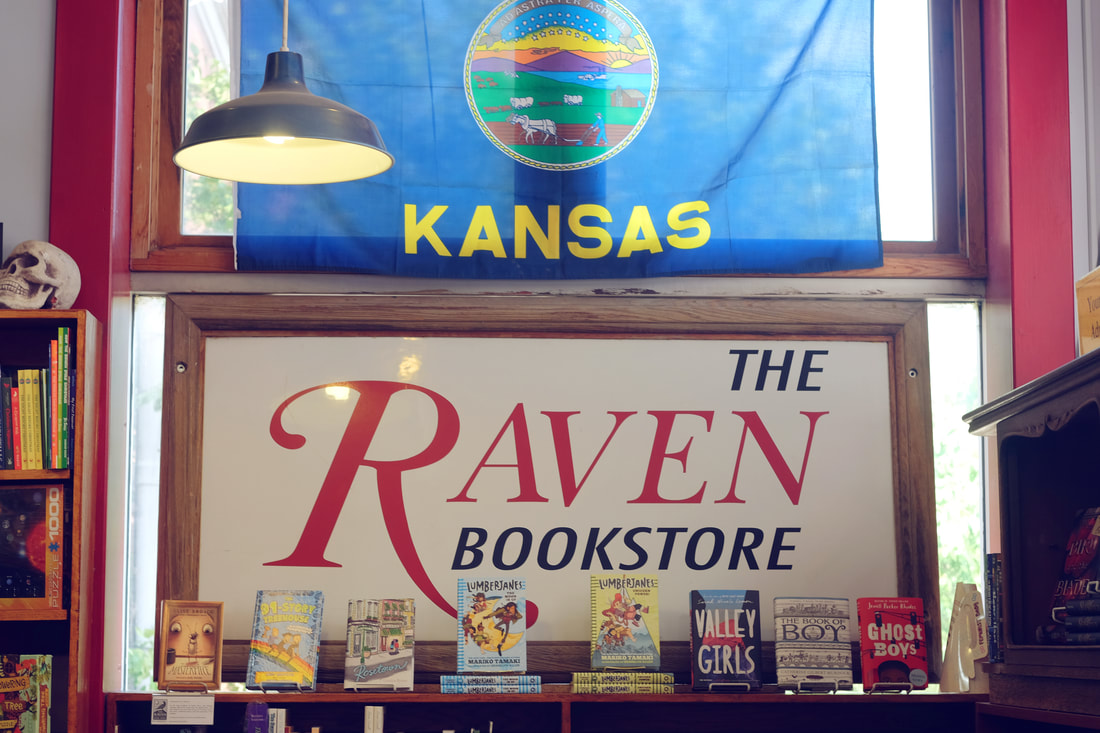 ---
Making noise
Many of us first noticed the range and impact of Danny's voice earlier this year as The Raven used Twitter as an advocacy platform. When a customer complained in person about books costing more in-store than online, Danny composed a series of educational Tweets plainly describing the real cost of selling books and cheerfully engaged with the countless comments on the thread. As of today, it's been showcased in the Chicago Tribune, retweeted 20.8K times, and garnered 52K likes.
"A tweet from a little Kansas bookstore had stirred more reaction than most of the tweets about the day's big news?" asked the Chicago Tribune reporter. Yes, it did. And that's because "that little Kansas bookstore" is powered by someone who can explain the challenges faced by indie booksellers in language everyone can understand and relate to.
Danny also uses social media to sell more books than he would without it, pairing with the author Shea Serrano to push for online orders on The Raven's website on Prime Day and educating consumers about how Amazon's disregard of The Testaments embargo has lasting negative effects on a bookstore's bottom line, which was picked up by the New York Times.
Going even further, Danny also started a narrative newsletter, Quoth the Raven, in which he tells entertaining stories about bookselling life—and infuses them with real support for the indie bookstore channel. In "There's a Manhattan in Kansas, Too," he vividly demonstrates how regional associations, publishers, and authors such as Bryn Greenwood all work together to create a model for how the industry can ideally collaborate. (We encourage you to sign up for Quoth the Raven here.)
Sarah Krammen, marketing coordinator at Dragonfly Books in Decorah, IA who nominated Danny, says, "At the helm of Raven's Twitter account, Danny has been at the front of so many important movements in our industry, from showrooming to Amazon links, and his publicly navigating the intersection of bookselling and humanity with wit and humor has been incredibly inspiring."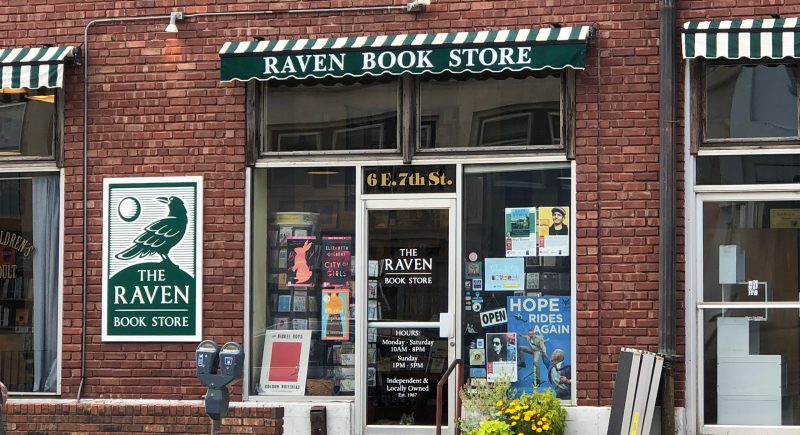 Photo by Nick Gerick of Lawrence Journal-World
---
Building successful events
Another hallmark of The Raven Book Store is its increasingly active and diverse events. Former staff member Morgan McComb, now at Square Books in Oxford, Mississippi, says, "It's Danny's whole ethos to expose people to authors they will love, helping diverse, underrepresented artists to come to Lawrence. He excels at organizing inclusive events that bring together the entire community."

Early this year, he pursued his dream of founding Lawrence's first large-scale literary festival, Paper Plains, "a collaborative, cross-media, diverse and inclusive literary festival celebrating authors and artists from the Plains and beyond." As the festival's director, he's incorporating as a nonprofit and partnering with local organizations to make it strong. The first festival is April 23-26, 2020; the lineup will be announced on September 18th, paired with a launch party in Lawrence.

Danny also bridges the divide between his local community and the University of Kansas, pairing with The Commons, a speaker series that gives "Lawrence and the region an opportunity to come together and celebrate speakers whose writing is deeply informed by their intersectional identities." Always looking to celebrate local connections, Danny and university staff selected artist Alex McGettrick to brand the series with her art and create an overall stunning appeal.

Danny also maximized the community partnership model to great effect by starting an author talk series with the Watkins Museum of History called "Raven Book Chats at the Watkins," and also deepened his relationship with the Lawrence Public Library, a central partner for Paper Plains who he's doing more than 50 author events with every year.
Raven staff member Sarah Young says, "Danny has built on the thirty-year history of our bookstore and has done so much to raise the profile of The Raven Book Store in the community."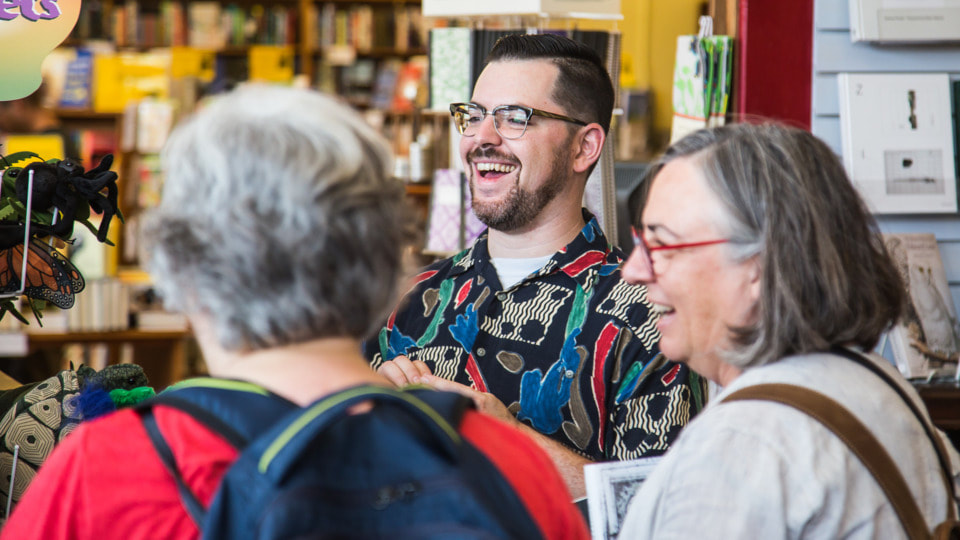 ---
Powerful leadership style
A booksellers' accomplishments are most powerful with the support of their staff, and Danny has excelled in this regard. His staff describe his uncanny ability to recognize their talents and give them autonomy to succeed at the projects most meaningful to them. "Danny sees the bookstore as an ethical and political body. What is it that separates us from Amazon? For him, it's his team, thus all the empowerment he gives us on a daily basis," says Morgan.
Kelly Barth, Raven staff member, says, "I've worked at the store since 1997, so The Raven and I have weathered many storms. Dovetailing with a resurgence of interest and investment in indies, Danny's arrival as the owner couldn't have happened at a better time. His bookselling skills, business instincts, and innovative spirit have put the store on a surer footing than I'd ever thought possible. Danny's decisiveness and managerial clarity have made him a pleasure to work for. He's given me the responsibility and freedom to do my job: sell books."
We extend Danny Caine a warm congratulations and a thank you for his commitment to independent bookselling. He will receive an all-expense-paid trip to the Heartland Fall Forum, including all meal tickets, transportation, and hotel, and receive the Bookseller of the Year award at our annual Book Awards Celebration.
---
---