Celebrate Black-Owned Bookstores
Date posted
February 6, 2023

Each Monday this month, we're featuring Black-owned bookstores from our membership. Learn more about their beginnings, where their store is headed, and what they're recommending. Search for BIPOC-owned bookstores on our website and help us support Black-owned indie bookstores all year round.
---
In January of 2020, Niche Book Bar was officially established as a pop-up bookstore by Cetonia Weston-Roy. But one year prior, you could find Cetonia pedaling books throughout Milwaukee neighborhoods with a yellow cart attached to her blue bicycle. For Weston-Roy, "Niche Book Bar was the solution when a life-long reader asked herself why it was so hard to find Black literature in a wide variety of genres?"
Today, Niche Book Bar is planning for a brick-and-mortar future within the Bronzeville area of Milwaukee, a historically Black neighborhood and business district.
| | | | | |
| --- | --- | --- | --- | --- |
| The original Book Bike | | | Future brick-and-mortar location | Cetonia Weston-Roy |
3 Q's with Cetonia Weston-Roy

As a bookstore owner, what are you looking forward to the most in 2023?

I am looking forward to finally opening our brick-and-mortar!

What's been your favorite thing about operating Niche Book Bar?

My favorite thing is sorting books and deciding which to stock. It is very therapeutic.

I also get to practice self control, as I am tempted to keep many for myself.

What are you reading right now?

I'm loving short stories right now so Africa Risen is my current read!



Upcoming: Find Niche Book Bar at the BLAC•MARKET•MKE at Nō Studios Gallery on February 25.
Photos courtesy of Niche Book Bar and Facebook.
---
Da Book Joint, created by owner Verlean Singletary, first launched in May of 2007. Since then, this double hyphenate bookstore (Black owned/woman owned) has seen it all--from closing their first brick-and-mortar in 2009 and transitioning to an online and pop-up presence, to finding a new home in the Boxville marketplace in the Bronzeville neighborhood of Chicago. Singletary's goal is to "unite lovers of literature with diverse bestselling and rising authors…and to expose our community to various arts that encompass reading."
With a focus on youth literacy, Singletary also started the nonprofit Options for Literacy which raises funds to donate books to undeserved youth. And thanks to her daughter Courtney Woods, her self=proclaimed "partner in crime", Da Book Joint has a strong social media presence across Twitter, Facebook and Instagram.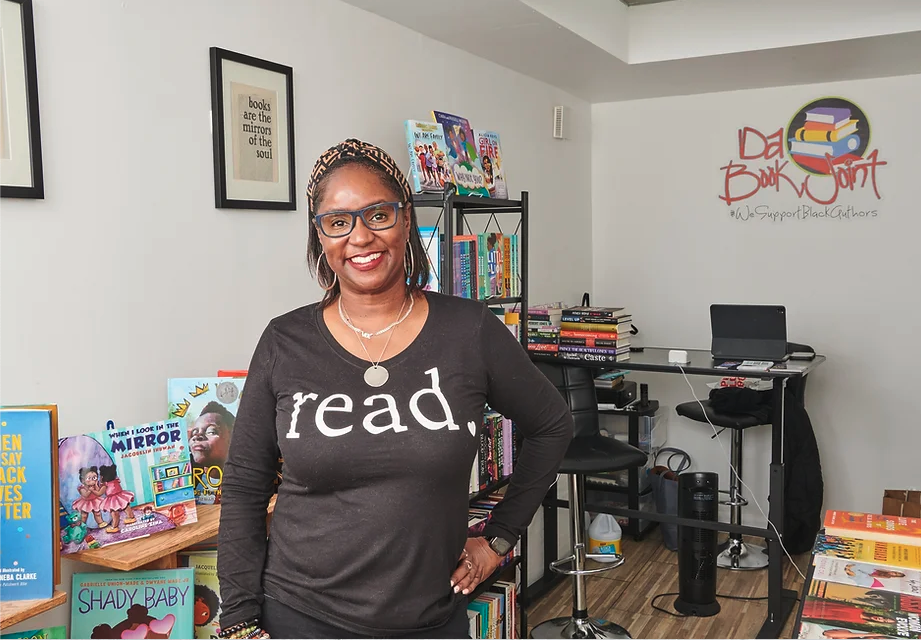 Verlean Singletary
| | |
| --- | --- |
| A cozy corner in Da Book Joint | Courtney Woods (Verlean's daughter) |
3 Q's with Verlean Singletary
As a bookstore owner, what are you looking forward to the most in 2023?

I want what every store wants, more customers, more exposure. I want people to see what we're about. We're a unique store in a refurbished shipping container. We're also funding for a larger space to offer more book related events and we hope to stay in the Bronzeville area.

What's your favorite section of Da Book Joint?

I always say fiction, but lately I'm gravitating towards biographies and memoirs. Just reading about people's experiences, I enjoy how they change and learn what they're headed towards. Our children's section is the biggest section and I love seeing children come in and pick out their books. Parents try to lead them one way, but they know what they want.

What are you handselling right now?

We're recommending a lot of cookbooks thanks to the popularity of veganism. Eat Plants, B*tch by Pinky Cole is selling hand over fist!
Upcoming: Receive an exclusive Black History Month tote with any $50 purchase during the month of February.
Photos courtesy of Da Book Joint and Facebook.
---
Brown Babies Books is a Black and woman-owned online and pop-up children's bookstore offering a curated collection of books written by authors of color. Officially started in April of 2018, Tameca Lyons was inspired by the classic story of Corduroy by Don Freeman. Lyons thought Corduroy was cute, but the character of Lisa is what drew her to the story and captured her attention. Lisa looked like her and it was the first time Tameca had seen a Black character in a storybook.
Even at the age of 4 when her love of reading began, Tameca knew representation mattered, and this ultimately led to the creation of Brown Babies Books. "Our children need to see themselves and their lived experiences represented in the stories that they read."
With the return of in-person conferences last year, Tameca was grateful to step back and learn from bookstore veterans. Her new focus is to look beyond day-to-day sales and be more strategic in making Brown Babies Books a lasting presence.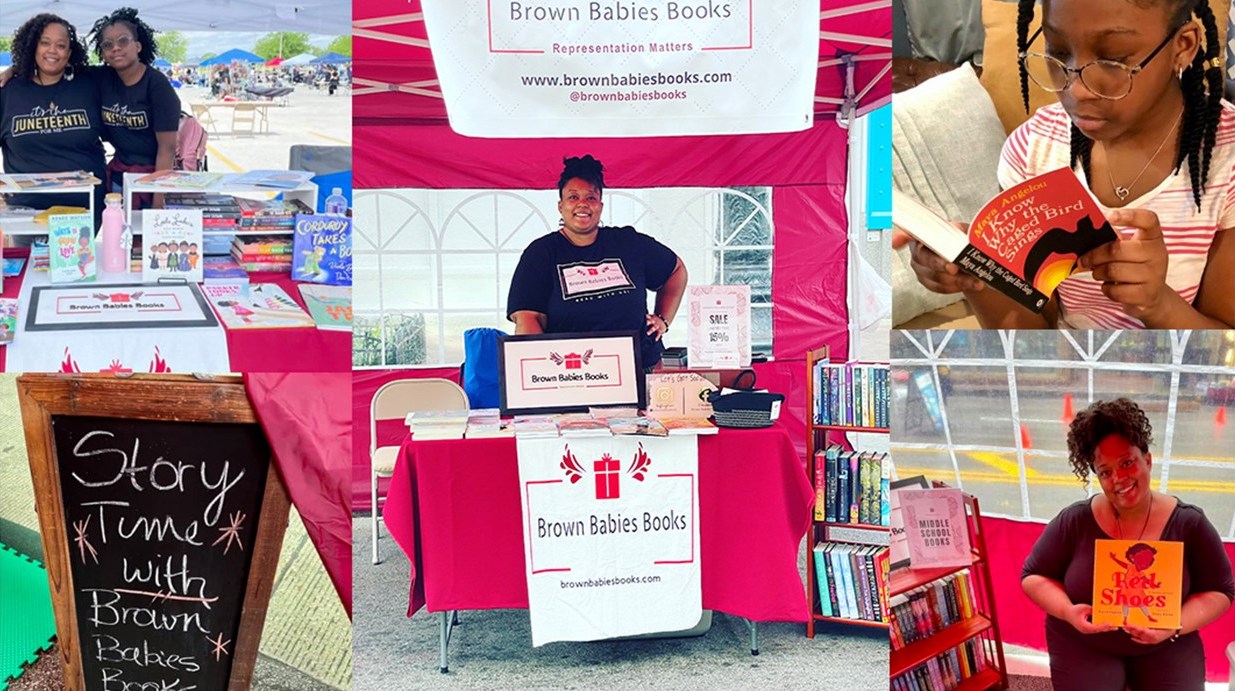 3 Q's with Tameca Lyons
As a bookstore owner, what are you looking forward to the most in 2023?
2023 is an opportunity to develop as a business owner and look at areas to grow. I have plans for outreach to establish more partnerships in the community.
What's your favorite thing about operating Brown Babies Books?
The kids! And the parents that come into my space. I love seeing the looks on kids' faces when they see books they can resonate with or a little boy saying "that looks like me." Kids being able to connect with characters and being so excited about the books. Also, the various adults that walk past my booth and say, "Wait a minute, are all the books about black and brown kids? I wish they had that as a kid." That's why I do it. The mission is strong and the need is there.
What are you handselling right now?
Kwame Alexander, he's just amazing! Carole Boston Weatherford, Ibi Zoboi; there are a lot of talented authors that need to be read. I want people to know yes, the classics are great, we will not forget those legends that came before us, but there's new books, new things that your children can connect and relate to and they can see that as a career.

| | |
| --- | --- |
| Black History Month recommendations across social media | Representation matters pop-up display |
Photos courtesy of Brown Babies Books and Facebook.
---
Nestled in downtown Minneapolis sits the IDS Center, a 57-story office tower with 2 million square feet. Within this iconic landmark lives Strive Bookstore, a community-informed space that celebrates and supports local Black authors and promotes multicultural literary events.
Five years ago, Mary Taris founded Strive Publishing as a way to help solve the need for culturally relevant children's books and the underrepresentation of Black authors in book publishing. "Books inform society and there's so much talk about elevating black voices, diversity, equity and inclusion. People need to learn how to be a part of that discussion."
And thanks to their involvement in a recent holiday pop-up market, Strive Bookstore plans to expand with a new location this Spring in the Young Quinlan Building in Minneapolis. This will be a community-informed space--a bookstore for everyone while catering especially to the Minneapolis population.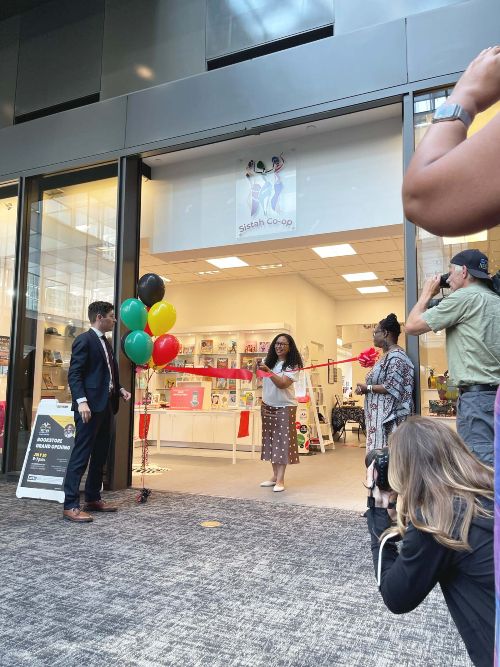 3 Q's with Mary Taris
As a bookstore owner, what are you looking forward to the most in 2023?
I am looking forward to having more literary events in the space, especially local Black authors.I'd love to bring in bestselling authors.
What's your favorite section of your store?
There's one shelf in the front of the store I call our Knowledge is Power shelf where we have books shelved by authors who are all about elevating black voices, black power, and educating society in general for the black presence in America. Books like Entertaining Race and Unequal: A Story of American by Michael Eric Dyson are so important.
What are you handselling right now?
I always steer people towards the Knowledge is Power shelf to recommend Black in the Middle: An Anthology of the Black Midwest, Forgotten Readers: Recovering the Lost History of African American Literary Societies, and a title published by Strive Publishing – The C.A.R.E. Package for Racial Healing.
| | | |
| --- | --- | --- |
| Grand opening celebration | Short story dispenser | Bookstore views |
Photos courtesy of Strive Bookstore
---
Rooted MKE - Milwaukee, Wisconsin
Almost one year ago the doors of Rooted MKE opened as a safe space for young BIPOC readers to see themselves in the stories on the shelves. But before the grand opening last March, Ashley Valentine was popping up all over Milwaukee to drive awareness that "…there aren't many spaces in MKE for black and brown youth to experience literacy." And the bookstore isn't just a bookstore, but also a place for classes, author events and tutoring sessions. Valentine seeks to "offer opportunities for youth to engage meaningfully with books to further literacy comprehension skills and vocabulary acquisition skills."
| | |
| --- | --- |
| Ashley Valentine | A wall of books inside Rooted MKE |
3 Q's with Ashley Valentine
As a bookstore owner, what are you looking forward to the most in 2023?
I'm looking forward to literacy summer camps and introducing kids to new stories, while helping them feel prepared about their skills.
What's your favorite section of your store?
My favorite part is our bilingual picture book section. I appreciate that section because it's not easy to go into a store and find bilingual books right away. But families come in and our section is easy to find and easy to navigate. We have a good selection for Spanish speaking families and kids beginning to learn Spanish at school. Classic books in Spanish.
What are you handselling or loving right now?
My favorite book right now is You Be Mommy by Karla Clark. It's about a mom who works all day in a tech store and goes home to do second shift – laundry, dinner, etc. – and her little girl asks how can I help. The answer is you can be mommy for the night. I love it.
Photos courtesy of Rooted MKE and Instagram.
---
EyeSeeMe - St. Louis, Missouri
On Juneteenth of 2015 Jeffrey and Pamela Blair opened the doors to
EyeSeeMe African American Children's Bookstore in St. Louis, Missouri.
Their mission "is to be a resource to parents, teachers, and schools in
providing the very best children's books on the market that promote
positive images and stories about African American culture and history."
Through community partnerships like book fairs, reading mentors, STEM and History classes, this bookstore's reach is growing farther every day.
In 2020 EyeSeeMe found new audiences thanks to the power of social media. With over 14 thousand followers on TikTok their videos highlight everything from new book releases (they carry YA and adult too!), to upcoming events and author shoutouts. Also included is their Book Box subscription which is designed for children and young adults to access curated, high quality African American books, even if you don't live in St. Louis. Co-owner Jeffrey Blair says, "We're still looking to engage customers with our virtual presence and the programs that got utilized during the pandemic, while also enjoying seeing people in person."
| | |
| --- | --- |
| EyeSeeMe location in St. Louis, Missouri | The colorful inside of EyeSeeMe |
3 Q's with Jeffrey Blair
As a bookstore owner, what are you looking forward to the most in 2023?
We're planning for the summer of course, which includes our reading programs and we're continuing to expand our partnerships with school districts and non-profits. Such a large part of what we do is to help the reading gap that was created by the pandemic and schools closing. So, we wish to partner with organizations to address and help that gap.
What's your favorite section of your store?
Picture books – they're so vibrant! I just love the creativity of the authors and illustrators, and their ability of telling a story through pictures. That's the kid in me and it never gets old.
What are you recommending right now?
One that just came out is called A Boy and His Mirror by Marchánt Davis – it's the story of a young boy who has an afro and he gets picked on. It's so important because it teaches the beauty of your hair. For young adult there's Bloodmarked by Tracy Deonn and anything Wakanda goes quickly!
Photos courtesy of EyeSeeMe, Publishers Weekly and TikTok.
---
It started as a Tweet, which lead to a GoFundMe that began the journey of Black Garnet Books. Owner Dionne Sims manifested her dream into a reality with the help of a large community, online and in the city of Saint Paul, Minnesota as a direct response to state violence. In October of 2020 Sims launched her pop-up at local Minneapolis spots like Sanctuary Covenant and Merci Tattoo. The goal was and is "…to introduce everyone to underrepresented voices and stories, new and old, that support and affirm the cultures they're connected to."
| | |
| --- | --- |
| Dionne Sims wearing custom BGB merch | Beloved shop dog Nova in the back entrance of BGB |

Fast forward two years and Black Garnet recently celebrated the grand opening of their brick-and-mortar location in the Midway neighborhood of Saint Paul. It's a dreamy, chill space with adult and young adult contemporary literature by Black and racially-diverse authors (and if you're lucky you might even run into beloved shop dog Nova). But what makes this space truly shine is Black Garnet's commitment to accessibility. Sims wanted a space where every person could feel welcome and comfortable purchasing books. From wheelchair accessible bathrooms, to wide browsing isles, these important details have been given every consideration. When reflecting on her new location Sims says, "we now have the capability to do community focused events in our space and I can't wait".

| | |
| --- | --- |
| Pop-up setup in Minneapolis, MN | Store front in Saint Paul, MN |
3 Q's with Dionne Sims
As a bookstore owner, what are you looking forward to the most in 2023?
In 2023, what I'm looking forward to most are events because that's something that I really enjoy. Before the store opened I was doing pop-ups - which are events usually at events - and I just love the energy that people bring when they're out in the world. We have the capability to do annual things now and that's exciting, to actually do events in the space.
What's your favorite section of your store?
I'm a huge fan of of our socio-political section. It's one of those things that I had to be super intentional with because there are a lot of socio-political books out there that I don't necessarily agree with, depending on who's writing it and why. There's a lot of reformist books and I'm very much on the path of abolition so I've really curated that section to be in line with my personal politics, which I get to do because it's my store.
What are you recommending right now?
We literally had 20 new books come out today and our new release table is as full as it can be. I mean the paperback for The Memory Librarian by Janelle Monáe just came out. Super excited for people who don't want to do hardcovers to get their hands on that book.
Photos courtesy of Black Garnet Books and Instagram.