A Letter from Our Director
Date posted
January 15, 2021
Last month, I celebrated my 10-year anniversary as the director of the Midwest Independent Booksellers Association. Ten years ago, I didn't know my job existed, much less that it was part of this extraordinary industry where values are a commodity and competitors are friends. I'm grateful every day to work alongside the passionate and creative people who believe bookstores are community sanctuaries.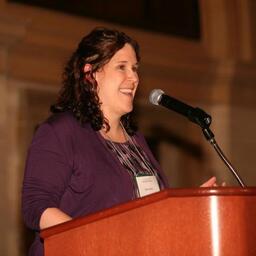 It's fitting to experience this personal milestone at the same time MIBA is beginning its 40th year. It's a time for reflection in so many ways. The pandemic is still gripping the world and not allowing any of us to get back to "normal." In a prescient move, Bookshop opened in January, giving many stores without e-commerce an opportunity to keep selling books as state mandates forced their doors to close. Penguin Random House bought Simon & Schuster and we wait to see how it will unfold. BookExpo is no longer, while Publishers Weekly and Edelweiss have announced their own virtual and online gatherings in its place. Moon Palace Books is still boarded up after the uprising protesting the murder of George Floyd. Most recently, we are shocked and angered that a disinformation-fueled insurrection so easily overtook the nation's capital.

As we make plans to celebrate our 40th anniversary, every moment will be tinged with sadness due to the catastrophic loss of "the Uncles" during the uprising after George Floyd's death. Uncle Hugo's and Uncle Edgar's Bookstores, owned by Don Blyly, who founded MIBA in 1981, were burned to the ground, along with the unquantifiable treasure trove of books inside.

Despite all the loss, uncertainty, and fear, there's still good news. During challenging times, we rise up together and collectively reaffirm our values. Many bookstores have had a successful year, and many more are reporting they had the best holiday in history. As of today, Bookshop is on its way to raising 11 million dollars for independent bookstores, an astonishing number having been in operation for just one year.
Whether or not sales were up, down, or flat, independent bookstores worked tirelessly to keep their bright light shining at a time when it feels like we need them more than ever--and I don't say that lightly. We always need bookstores, but in a year when we were confined to our homes, disinformation flared, Amazon deprioritized books, and our country desperately needed to read about antiracism, bookstores were there for us as an unwavering refuge in the storm.

​I'd like to say thank you to booksellers and everyone in the industry who reinvented their work again and again. Each book we bought felt like one more brick laid on the path to a better world.
---