Back to Events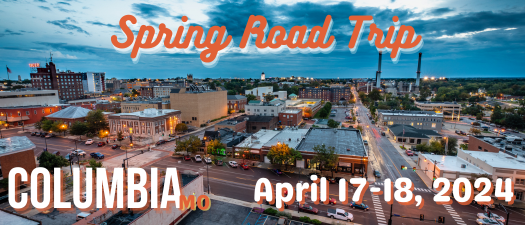 Spring Road Trip Columbia
Wednesday, April 17, 2024
at
9:00 AM (CDT)
to Thursday, April 18, 2024 at 5:00 PM (CDT)
Event Details
MIBA Spring Road Trip April 17-18
A gathering of indie booksellers, industry partners, and authors

Skylark Bookshop, Yellow Dog Bookshop, & Black Tea Bookshop would like to invite the booksellers and friends of MIBA to Columbia, MO for the 2024 Spring Road Trip. Columbia is located in the Heart of Missouri, affectionately nestled in the middle of the US. The area where the bookstores are located is called "The District," an eclectic collection of people and businesses in downtown Columbia bound by three college campuses and encompassing 50 square blocks. The District is known for being rich with indie businesses, incorporating art installations, and maintaining important historical buildings, making it a vibrant and rich cultural hub.
Our Spring Road Trip is a unique opportunity to strengthen our network of booksellers, industry staff, and authors in a close-knit setting while enjoying a the richness a setting like Columbia has to provide. Attendees will experience close-knit networking and idea sharing, education, inspiration, and peer-to-peer support about owning and operating a bookstore.
Who should attend?
Booksellers from all areas of the store and of all knowledge levels - Owners, managers, and frontline; new and veteran. There will be something for everyone.
Industry partners - We will collaborate closely with our industry partners to co-create education, title discovery opportunities, and opportunities to meet authors. A full slate of sponsorship and author placement opportunities will be posted before the end of the year, but please don't hesitate to be in touch with ideas.
Yellow Dog Bookshop
Skylark Bookshop

Black Tea Bookshop
Pop-up with storefront to come

Unbound Book Festival
One location is the Missouri Theatre
2 Other Registered Attendees
MIBA + Unbound Collab
MIBA Spring Road Trip: April 17-18
Unbound Book Festival: April 18-21

The Spring Road Trip is planned to coincide with Unbound Book Festival on April 18-21. Alex George, the owner of Skylark Bookshop, is also the director of Unbound Book Festival, which allows us to offer a unique pairing of trade and consumer-facing opportunities.
What does this mean?
Our event will feature a synergy of learning opportunities provided by both MIBA and Unbound. After the Road Trip concludes, attendees will get to enjoy the world-class literary programming Unbound is famous for.
Industry partners will have a rare opportunity to pitch authors for back-to-back trade AND consumer-facing promotional opportunities and personally attend/enjoy both aspects of this dual event.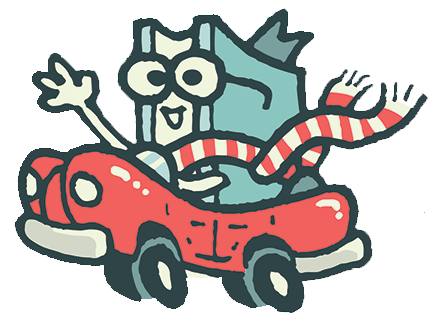 Come along for the ride!