Back to Products & Services
Winter Catalog Digital Only Ad
Winter Catalog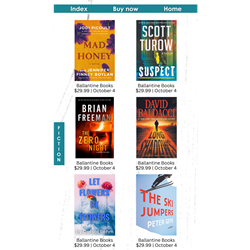 New this year!
Ads will be placed in our digital catalog - a mobile-optimized, user-friendly version of the winter catalog that links to bookstores' custom shopping URLs.
Digital ads include jacket and 30 words of copy.
All ads must be purchased by August 25. Title information and images are due September 1 . Your confirmation email will include a form link to submit all of the assets.
Before purchasing an ad, check our list of currently reserved titles. Someone else from your company may have already purchased an ad for your title.
---